Apple releases OS X updates for new iMacs, Magic Trackpad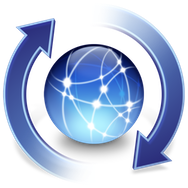 If you already rushed out to purchase a Magic Trackpad or one of the brand new iMacs Apple announced on Tuesday morning, then it's time to do the Software Update dance. The company has rolled out a pair of updates for Mac OS X 10.6.4 and Mac OS X 10.6.4 Server installations running on the new desktop models, as well as software updates for those who want to use the Magic Trackpad with their existing Mac.
The Mac OS X 10.6.4 update for the mid-2010 iMac resolves compatibility and performance-related graphics issues, improves compatibility with large-format SDXC memory cards, and adds support for Apple's new Bluetooth Magic Trackpad. It clocks in at 452.62MB and contains all the same fixes as the Mac OS X 10.6.4 update issued in June.
The server update, Mac OS X Server 10.6.4 for the mid-2010 iMac brings the same updates found in the Mac OS X Server 10.6.4 update also released last month. The download is 460.91MB and requires Mac OS X Server 10.6.3 or later.
The 75.09MB Magic Trackpad and Muli-Touch Track Update 1.0 brings support for the Magic Trackpad to any Intel-based Mac running Mac OS X 10.6.4—but note that you'll have to have the Magic Trackpad paired and connected to your computer for the update to show up and install. The patch adds a Trackpad pane in System Preferences for configuring the Magic Trackpad and also implements the three-finger drag gesture and inertial scrolling to a host of Mac portables released over the last two years. It also adds inertial scrolling (but not the three-finger drag gesture) to the MacBook Air and MacBook Air (Mid 2009) models as well as the 15-inch and 17-inch MacBook Pros from early 2008, as long as they're running Mac OS X 10.6.4.
Finally, for those who want to use the Magic Trackpad with a Mac running Windows via Boot Camp, you'll have to download the Apple Magic Trackpad Update 1.0 for Windows, available in both 32-bit and 64-bit flavors. The patches support Windows XP, Vista SP2, Windows 7-32, Vista 64, and Windows 7-64 and require Boot Camp 3.1.
In addition to being available at Apple's support download site, most of the updates should be available on the applicable computers via Software Update.
Updated at 1:37 PT to clarify which models get which multitouch gestures.

Amazon Shop buttons are programmatically attached to all reviews, regardless of products' final review scores. Our parent company, IDG, receives advertisement revenue for shopping activity generated by the links. Because the buttons are attached programmatically, they should not be interpreted as editorial endorsements.