iPhone developers can now advertise their apps via iAd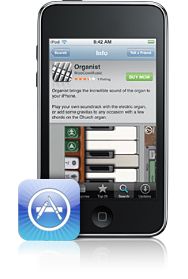 Apple began rolling out its iAd program earlier this month, but by all accounts the ad spots themselves were fairly limited. On Wednesday, however, Apple launched a program allowing iPhone developers to sign up to have their own apps advertised via iAd.
There aren't a lot of details on the program at present: Apple's site offers only a contact form for interested parties. The company does say, however, that one of the features of iAd for Developers is the ability for users to download apps from the App Store without leaving the program they're currently in.
First introduced in April at Apple's iPhone 4.0 event, iAd allows developers of free apps to earn money from click-throughs of ads in their apps, and allows them to keep an eye on their metrics and how much revenue they've generated from those ads. The iAd Network went active on July 1, but some developers have dinged the program for the low number of different ads that are currently available.

Amazon Shop buttons are programmatically attached to all reviews, regardless of products' final review scores. Our parent company, IDG, receives advertisement revenue for shopping activity generated by the links. Because the buttons are attached programmatically, they should not be interpreted as editorial endorsements.