Apple posts Digital Camera Raw Compatibility 3.3 update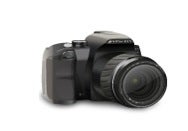 Apple has posted yet another Digital Camera Raw Compatibility software update as it continues to increase its support for the RAW format in Aperture 3 and iPhoto '09.
Version 3.3 is a minor update that extends RAW image format compatibility to Aperture 3 and iPhoto '09 for eight new cameras: Canon PowerShot SX1 IS, Olympus E-PL1, Panasonic Lumix DMC-G2, Panasonic Lumix DMC-G10, Samsung NX10, Sony Alpha DSLR-A390, Sony Alpha NEX-3, and Sony Alpha NEX-5. Most of the models are compact interchangeable-lens cameras.
The 5.7 MB update is available for download from Apple's support site and can also be downloaded through the Software Update system preference. It requires Mac OS X 10.5.8 or 10.6.2 or later.

Amazon Shop buttons are programmatically attached to all reviews, regardless of products' final review scores. Our parent company, IDG, receives advertisement revenue for shopping activity generated by the links. Because the buttons are attached programmatically, they should not be interpreted as editorial endorsements.