Outpost 2 becomes first Basecamp client for iPad
Outpost, Enormego's third-party iPhone client for 37signals's Basecamp collaboration service, has received a major 2.0 upgrade. It now includes a stylish new iPad interface, more file handling features, iOS 4 support, address book integration, and more.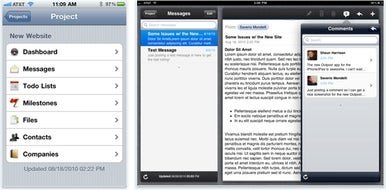 Outpost 2 gained a number of new features related to attachments—you can attach images from your iPhone or iPad and view all files in your Basecamp account. Large accounts with lots of projects are supported much better, and Outpost 2 can integrate with your device's address book for contact details.
Multitasking in iOS 4.0 and the Retina Display on iPhone 4 are now supported. With this new version, Outpost is now a universal app for both the iPhone and iPad, making it the first iPad client for Basecamp. The iPad interface is entirely new and quite stylized compared to its iPhone counterpart.
Outpost 2 replaces Enormego's previous Basecamp client, Groundwork, after the company acquired Outpost 1 from Morfunk's David Kaneda. Because this is such a major upgrade, Enormego decided to make Outpost 2 an entirely new, paid app, and not a free upgrade for previous users of either Groundwork 2 or Outpost 1.
Outpost 2 is available now in the App Store for $20. It requires an iPhone, iPod touch, or iPad running iOS 3.2 or later.
Product mentioned in this article
(1 items)
Outpost 2 - Basecamp® for the iPhone & iPad

$20.00

Amazon Shop buttons are programmatically attached to all reviews, regardless of products' final review scores. Our parent company, IDG, receives advertisement revenue for shopping activity generated by the links. Because the buttons are attached programmatically, they should not be interpreted as editorial endorsements.