Pixelmator 1.6.1 gets Aperture, PhotoBooth support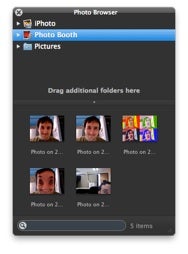 The Pixelmator photo editor has gained a minor update with some key new features for photo buffs who frequently pull images from their existing libraries.
Pixelmator 1.6.1 adds support for Aperture and PhotoBooth libraries—alongside the already present iPhoto—to the Photo Browser, Pixelmator's built-in tool that lets you sift through your existing libraries and find photos to turn into hyperrealistic masterpieces.
This update also brings support for custom folders in the Photo Browser, so you can easily look for images outside of the aforementioned programs without having to switch to Finder or another app. The Pictures folder in your user's home folder is automatically supported, but you can drag other folders to Pixelmator's Photo Browser to add them for quick access.
The Photo Browser now also supports List View in addition to its basic thumbnail layout. In List View, images will display some useful metadata next to their smaller thumbnails, including pixel dimensions and format.
Pixelmator 1.6.1 is a free update available to current owners, and you can grab it by going to the Updates section of Pixelmator's preferences. The app requires Mac OS X 10.6 Snow Leopard or later; a free demo is available, and a license costs $59.
Product mentioned in this article
(1 items)
Pixelmator 1.6

$35.00

Amazon Shop buttons are programmatically attached to all reviews, regardless of products' final review scores. Our parent company, IDG, receives advertisement revenue for shopping activity generated by the links. Because the buttons are attached programmatically, they should not be interpreted as editorial endorsements.