Baseball playoff video comes to iOS apps
Sunday marks the last day of the 2010 baseball regular season, and as the sport gears up for the playoffs, Major League Baseball has announced a package of digital playoff material on the Web and on iOS devices.
The Postseason.TV package, available for $10, provides access to live video (synced with live broadcast audio) from multiple camera angles for every postseason game. Because the full Fox or TBS broadcast is only available from television providers in the U.S., baseball refers to the Postseason.TV package as a "live streaming companion." Viewers can select one camera angle (for choices such as centerfield, behind home plate, and in the dugouts) or choose a "quad view" with four different angles.
The video is delivered via a Web browser or within the MLB At Bat 2010 iOS app, which is available for iPhone, iPod touch, and the iPad. Though the package was available last year, the size of the iPad's screen makes it a more interesting device for getting some extra angles on the playoff while watching them on TV.
Users outside the U.S. can use postseason.TV to watch the full playoff broadcasts.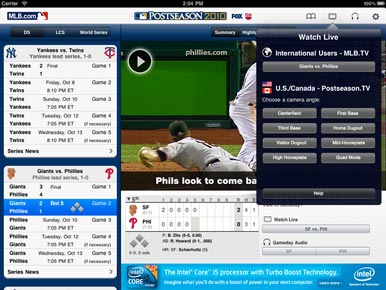 At a Glance
500 - Server Error

Oops! We're not able to find the page you're looking for. Here are some options to help you get back on the right track:

If all else has failed, try emailing our friendly customer service staff.