Shutterfly introduces iPad app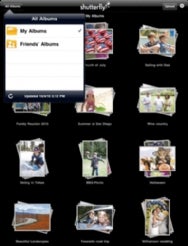 Shutterfly, the online photo site, debuted its free iPad application on Wednesday.
Like the company's iPhone application, Shutterfly for iPad offers users access to photos from their online Shutterfly accounts; the iPad version goes a step further, however, with the ability to download and store those photos on the iPad itself. The new app also offers full-screen slideshows, photo-sharing via e-mail, and the ability to upload photos directly to a Shutterfly account (although Shutterfly notes that due to restrictions of the current iOS version on the iPad, you can't upload full resolution photos yet).
New users can also create Shutterfly accounts from within the app.
Shutterfly for iPad is free and compatible with iPads running iOS 3.2 or later.
Product mentioned in this article
(1 items)
Shutterfly for iPad

Free

Amazon Shop buttons are programmatically attached to all reviews, regardless of products' final review scores. Our parent company, IDG, receives advertisement revenue for shopping activity generated by the links. Because the buttons are attached programmatically, they should not be interpreted as editorial endorsements.