Tinkering with the Finder's Column view
Reader Alec Decker would like some help tweaking the Finder's Column view. He writes:
I prefer to use Snow Leopard's Column view but I'm tired of having to constantly resize columns because I can't see the full names of the items in them. Is there some setting I can use to see those full names?
There is. Open a Finder window in Column view and double-click on the Resize handle at the bottom of the window (to the right of the column you want to resize). The column will expand to the width of the longest name in the column.
While we're on the subject of roomier columns, here's another trick. When you Option-drag on a column handle, the Finder will use the column size settings for every Finder window you open.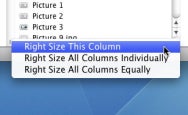 More? Okay. Control (Right) click on a column handle and you'll see three options: Right Size This Column, Right Size All Columns Individually, and Right Size All Columns Equally. The first option does what I outlined earlier—makes that column the width of the longest name in the column. The second option does this same thing for each individual column that contains items (so each column will be a different size based on the length of names within each column). And the third imposes the widest column length on all the columns.
Product mentioned in this article
(1 items)
Mac OS X 10.6 (Snow Leopard)

$35.00

Amazon Shop buttons are programmatically attached to all reviews, regardless of products' final review scores. Our parent company, IDG, receives advertisement revenue for shopping activity generated by the links. Because the buttons are attached programmatically, they should not be interpreted as editorial endorsements.