LaCie releases USB 3.0 driver for Macs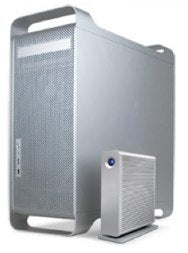 Apple might have no plans to support USB 3.0 just yet, but thanks to LaCie, certain Mac users can now enjoy the blazing high speed transfer rates that Intel's latest version of the technology offers.
The storage company has announced the availability of a free USB 3.0 driver for Mac OS, which, when installed and used in conjunction with a USB 3.0 expansion card, gives users full USB 3.0 compatibility.
USB 3.0 has a theoretical peak speed of 5 gigabits per second (Gbps), but in real world tests LaCie says it registered speeds of up to 130 megabytes per second (MBps) for single hard drives and 220 MBps for dual hard drives. By comparison, USB 2.0 has a theoretical maximum of 480 megabits per second (mbps) and FireWire 800 tops out at 800 mbps. As always, real-world speeds can vary depending on the task and hardware.
To enjoy the benefits of USB 3.0, you'll need a USB 3.0 PCI Express Card ($50) or a USB 3.0 ExpressCard/34 ($60) and a compatible Mac Pro or MacBook Pro running OS X 10.5 or later. And, of course, you'll need a USB 3.0-compatible hard drive, which LaCie also sells.

Amazon Shop buttons are programmatically attached to all reviews, regardless of products' final review scores. Our parent company, IDG, receives advertisement revenue for shopping activity generated by the links. Because the buttons are attached programmatically, they should not be interpreted as editorial endorsements.