iOS 4.2: Ten great features
iOS 4.2 marks the first time that all of Apple's mobile devices are sitting at the same OS table. This unification brings a handful of key new features to all three devices, but it also finally catches the iPad up with Apple's other mobile devices. This is the first time that users of Apple's tablet can revel in major iOS 4 benefits like multitasking, folders, and a unified Mail inbox—features that iPhone and iPod touch users have enjoyed since June.
While we took a look at 4.2 when it was still in beta, it's worth revisiting the software for the full release. There are a lot of features, both big and small, in this update, so the Macworld staff has assembled a list of those that most significantly enhance Apple's mobile devices.
AirPrint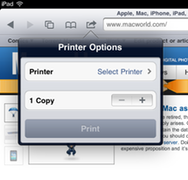 Printing has probably been one of the most requested features for iOS devices to date, and AirPrint finally helps deliver. Though features like iTunes's Document Sharing make it easier to get files off an iPhone or iPad, many users have wanted to print directly from an iOS device and eliminate the middleman. iOS 4.2 indeed now allows users to print directly from an iPhone or iPad to a printer, though the feature is not quite as complete as Apple originally promised. When Apple previewed AirPrint in September, it announced that users would be able to print to a new HP ePrint series of printers, as well as any printer shared on the local network by a Mac or PC. For now, only HP's printers are officially supported by this feaure, though enterprising developers have discovered a workaround.—David Chartier
AirPlay
Cables and docks are so passé. With AirPlay, the iPhone, iPod touch, and iPad can wirelessly stream music, video, and photos directly to compatible devices, including the new Apple TV and an increasing array of home theater entertainment components. At its core, AirPlay is Apple's old AirTunes feature for streaming audio to the AirPort Express expanded to iOS and third-party hardware. With AirPlay, Apple raises the bar for enjoying your media around the house or at a friend's, but it's also worth noting the strategic importance of the technology: it provides yet another technological hook for third parties looking to build products to work with iOS devices. Consumer electronics companies announced support for AirPlay months before iOS 4.2 was ready to ship.—DC
Safari search in page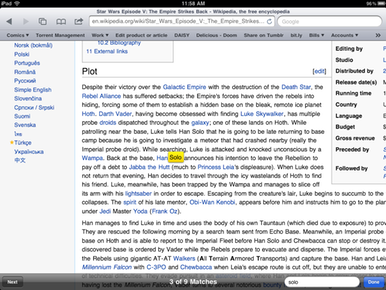 In iPhone 3.0, Apple added Spotlight, allowing you to search your iPhone for some types of content, but until iOS 4.2 if you wanted to search for text on a Web page, you had to rely on (often wonky) workarounds like JavaScript bookmarklets. Now, when you type a term into Safari's search box, you can scroll down past the list of Internet search suggestions to search for that term on the current page. If it's found, a toolbar will appear at the bottom of the display with arrows to help you jump to other hits on the page. It's a godsend for anyone who's ever had to skim an enormous page trying to find one specific section. —DC
Enhanced enterprise support
When it comes to business and enterprise customers, iOS 4.2 will bring the iPad in line with many of the encryption and management features that the iPhone and iPod touch received with iOS 4.0 and 4.1. Features like wireless app distribution and stronger mobile management offer businesses the control and flexibility they need to manage devices, while new encryption abilities for mail, attachments, and third-party apps can better lock down all that sensitive, portable data. But Apple didn't skimp on business end-user features, either. Mail now supports multiple Exchange ActiveSync accounts and works with Exchange Server 2010, while Apple's Calendar app finally allows you to view and respond to event invitations.—DC
Brightness, volume sliders

As almost everyone knows by know, if you double-tap your iPad's home button, you enter the fast app switcher. What you might not know is that if you swipe your finger from left to right on that switcher, you'll find a whole easy-access control panel full of cool features. On the iPad, where the entire double-tap thing is new, you'll find sliders to control the brightness (without going to the Settings app! hooray!) and the volume (despite the fact that there are buttons on the side that do the very same thing), along with audio playback controls—including an AirPlay button, if you have a device that works with the feature. iPhone and iPod touch users will discover they can swipe left-to-right a second time to unearth a volume control, useful in case they're somehow unable to press their iPhone's volume buttons.—Jason Snell
iPhone: Distinct SMS/MMS tones for contacts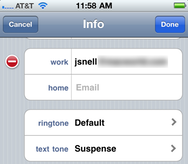 You've been able to set custom ringtones for your contacts for some time now—and yes, my phone does play Thomas Dolby's "She Blinded Me With Science" when my wife calls. But with iOS 4.2, you can assign tones to specific contacts for their text messages as well. Apple's also loaded up a whole new collection of 17 tones, in addition to the six original ones. (You still don't seem to be able to upload custom text tones, though.) So the next time a particular loved one sends you a text, you'll know it's from them before you even pull your iPhone out of your pocket.—JS
iPad: multitasking and fast app-switching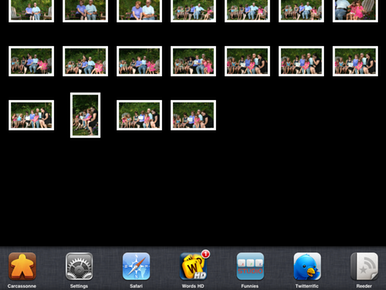 Most iPhone and iPod touch users have been riding the iOS 4 wave for months now. For them, multitasking is old news. But for iPad users, it's a big deal. In fact, the iPad is even better suited to multitasking than the iPhone. Double-tap the iPad's home button and you see a list of recently-used apps; tap one and it slides in front of your current app with a nifty bit of animated glitz. As an iPad productivity booster, it's pretty impressive: you can get into a rhythm switching between Safari, Mail, Twitter client, text editor, you name it. Apps pick up right where you left them. And the added support for background tasks means that you can have streaming Internet audio playing while you're working in other apps, all the while staying logged in to Skype and AIM. It's the feature that the iPad was born for… and now after seven months of waiting, iPad users will finally get to embrace it.—JS
iPad: universal Mail inbox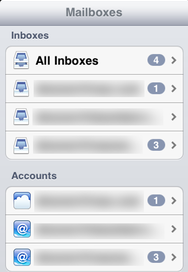 Mere minutes after we first held the original iPhone in our excited little hands, three years ago, we began pining for a unified Inbox—one that would let us access incoming e-mail messages for all our e-mail accounts in one place, without having to tap back, back out from one account's Inbox to the main accounts screen and then down, down into a different account. We finally got our wish on the iPhone with the arrival of iOS 4.0. But that just made us want a unified Inbox even more on our iPads. After all, the iPad's Mail app bested the iPhone version in many ways, taking advantage of the iPad's larger screen to make Mail more usable. Yet once iOS 4.0 was released, whenever iPhone owners picked up their iPads, using Mail felt like taking a step backwards. Now that we've finally got this feature on our iPads, the iOS universe is once again in balance. Let us never speak of separate Inboxes again.—Dan Frakes
iPad: folders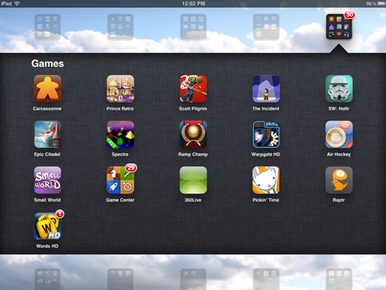 Before third-party iOS apps, the iPhone's Home screens seemed positively spacious. But once the App Store opened, it didn't take long before all those screens began to fill up. Even if you didn't reach the limit of visible apps (180), once you installed enough, navigating through them required swipe after swipe after swipe. So back in late 2008, we publicly wished for Home-screen folders so we could group many more apps on each screen—both for easier navigation and for a higher limit on the total number of apps we could see. We finally got this feature for the iPhone in iOS 4.0, and it was good. But like iOS 4's unified e-mail Inbox, once we had folders on our iPhones, it seemed almost criminal that we didn't have the same feature on our iPads. It's finally here, and once you've taken advantage of it to organize and access your apps, you'll wonder how you ever used your iPad without it. And for the app-hoarders out there, the iPad's capacious 20-item folders also increase the number of apps you can install and see from 226 to a whopping 4406.—DF
iPad: Game Center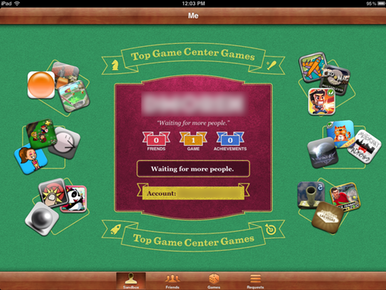 Apple's iOS has become a serious contender in the world of portable gaming, partly due to an explosion of cheap App Store games and the iPod touch's go-anywhere, not-just-a-game-console abilities. Apple introduced Game Center for the iPhone and iPod touch in iOS 4.1, jumping on the trend of making mobile gaming more social. Like the independent gaming networks that cropped up over the years, such as OpenFeint and Crystal, Game Center allows you to add friends to game with (or against), track scores, and compete on leaderboards. It can even match you up with other players of a similar skill level "if you don't have any friends," as Steve Jobs explained at Game Center's introduction. In iOS 4.2, Game Center finally comes to the iPad, giving it Apple's official seal of approval as an App-Store-powered and relatively portable gaming console.—DC