FiOS Football for iPad provides live gridiron action for some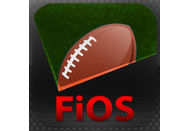 Imagine an iPad app that let you see NFL player information, team stats, live scores, and even watch the NFL RedZone Channel stream as it airs, wherever you are.
Now keep imagining, because the new free FiOS Football app from Verizon is actually far more restrictive than that. You can indeed gain access to all those great gridiron goodies with the app, but only if (deep breath):
a) You are a FiOS customer using both FiOS Internet service and FiOS television service;
b) You are in your FiOS-connected home;
c) You are connected to the FiOS Home Router's Wi-Fi connection;
d) And you already have a subscription to the NFL RedZone Channel.
Assuming you're an avid enough football fan to pay for the NFL RedZone Channel in the first place, I'd wager that when football Sunday rolls around you've already parked your keister in your favorite chair by the television, probably with your laptop nearby. But when nature calls, rest assured that you can take your iPad into the loo with you if you don't want to miss a second of live football updates.
FiOS Football is free and requires an iPad running iOS 3.2 or later. Pork rinds and beer are not included.
Product mentioned in this article
(1 items)
FiOS Football

Free

Amazon Shop buttons are programmatically attached to all reviews, regardless of products' final review scores. Our parent company, IDG, receives advertisement revenue for shopping activity generated by the links. Because the buttons are attached programmatically, they should not be interpreted as editorial endorsements.