Apple updates drivers for Canon, FujiXerox, Lexmark printers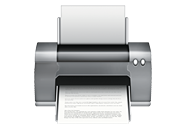 Having trouble printing from your Canon, FujiXerox, or Lexmark printer lately? Perhaps you'll find it easier after installing Apple's latest slew of printer driver updates to OS X 10.6 (Snow Leopard), posted Tuesday afternoon on the company's Support Website and available via Software Update.
Three separate driver downloads are available, each targeting a specific manufacturer: Canon, FujiXerox, and Lexmark. The Canon update, version 2.4.1, is 300.83MB in size and installs and updates drivers for various models. The 2.1 update for FujiXerox printers and scanners is only 45.43MB, and the 2.3.1 update for Lexmark printers is 121MB in size.
As always, you can double-check what printer and scanner models are officially supported by Snow Leopard by scanning through Apple's Knowledge Base article on the subject. Printers are sorted by model.
Product mentioned in this article
(1 items)
Mac OS X 10.6 (Snow Leopard)

$35.00

Amazon Shop buttons are programmatically attached to all reviews, regardless of products' final review scores. Our parent company, IDG, receives advertisement revenue for shopping activity generated by the links. Because the buttons are attached programmatically, they should not be interpreted as editorial endorsements.