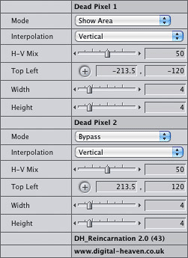 The UK's Digital Heaven have announced the release a major new version of DH_Reincarnation, a quick and effective Final Cut video filter that helps bring dead pixels on footage back to life.
Dead pixels have long been a issue on traditional video cameras, but with the recent innovation of shooting HD video on DSLRs, the problem is becoming more widespread. Manually fixing damaged and often irreplaceable footage can be a time consuming and sometimes near impossible task. Enter DH_Reincarnation 2.0, which enables up to two dead pixel areas to be intelligently replaced with a single application of the plug-in.
Previously, DH_Reincarnation only used Horizontal interpolation and this could produce issues with camera pans or vertical edges on objects moving through the frame. The new version allows you to choose between Horizontal, Vertical or Horizontal and Vertical interpolation modes to ensure the best results for each particular shot. In addition the area range has been increased to a maximum of 16 pixels making it possible to deal with large dead pixel areas on HD footage.
DH_Reincarnation 2.0 is $59 and requires Final Cut Pro 4 or later, or Final Cut Express 2 or later.
Updated 11:00AM PST to correct pricing, which was incorrectly listed at $99
This story, "Digital Heaven releases DH_Reincarnation 2.0" was originally published by Macworld U.K..