G-Map iPhone GPS app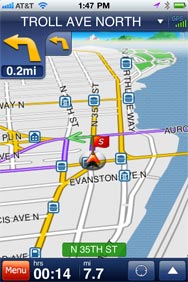 G-Map has come a long way since we first reviewed it in 2009, with improved display, navigation, and other changes. However, the program still has an inexplicably long delay between starting route calculation and completing it—several times longer than most competitors, and unimproved address recognition.
At the time we published our comparison review of GPS apps, G-Map lacked iOS 4 support, which puts it several rungs down from competitors.