Boxee Box gains Netflix support
You now have a perfect excuse to spend less time at the gym and more time on your couch.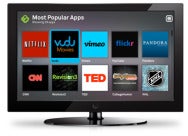 D-Link's Boxee Box has finally linked up with Netflix's streaming movie and TV show library. This is in addition to the addition of Vudu's on-demand HD rental service last month. Netflix users with an $8-or-higher monthly subscription can now watch the service's Watch Instantly content on the Boxee Box, as well as rent movies a la carte from Vudu for $2 for two days.
The addition of Netflix marks the end of a long wait after Boxee promised access on the Boxee Box—a series of snags prevented the hookup from happening. Vudu was also noticeably absent from the Boxee Box at its November 2010 launch, but the HD rental service joined Boxee in January.
This only leaves Hulu Plus out of the holy trinity of instant movie and TV watching that D-Link promised would be added to the box last November. An FCC filing by Comcast-NBC states that Boxee tried to "circumvent" its terms of service by airing the free portions of the site on its box, prompting Hulu to block Boxee users from its service. D-Link still insists Hulu Plus support is "coming soon" on its Website.
Product mentioned in this article
(1 items)
D-Link Boxee Box

$299.00 (When Rated)

via Amazon Marketplace

Amazon Shop buttons are programmatically attached to all reviews, regardless of products' final review scores. Our parent company, IDG, receives advertisement revenue for shopping activity generated by the links. Because the buttons are attached programmatically, they should not be interpreted as editorial endorsements.

The stylish Boxee Box by D-Link does a great job of making video from diverse sources accessible, and will be even greater when bugs are fixed and new content deals signed.