Steve Jobs makes public appearance at Apple event
Apple CEO Steve Jobs—on medical leave from the company—made an appearance at Wednesday's Apple press event in San Francisco to introduce the iPad 2.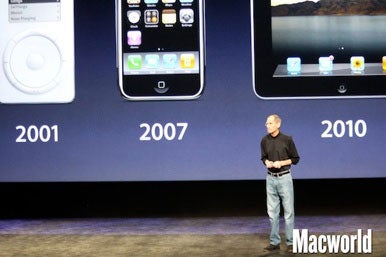 "We've been working on this product a while, and I didn't want to miss today," Jobs told reporters.
Walking on stage at the start of the event, Jobs received a standing ovation from those in attendance.
Jobs announced his current medical leave back in January, leaving chief operating officer Tim Cook in charge of Apple's day-to-day operations. In an open letter to the company's employees, Jobs wrote, "I love Apple so much and hope to be back as soon as I can. In the meantime, my family and I would deeply appreciate respect for our privacy."
Jobs has battled various health issues over the past few years, including a rare, treatable form of pancreatic cancer in 2004 and what he referred to as a "hormone imbalance" that led to a 2009 liver transplant.

Amazon Shop buttons are programmatically attached to all reviews, regardless of products' final review scores. Our parent company, IDG, receives advertisement revenue for shopping activity generated by the links. Because the buttons are attached programmatically, they should not be interpreted as editorial endorsements.