Strava Cycling tracks, rewards riders' performance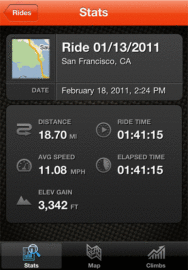 Lance Armstrong wannabes have a new iPhone app to help them record their rides and track their performance.
Strava Cycling debuted Thursday in the App Store. The app uses the iPhone's GPS feature to let users track the time, distance, and speed of their rides. That data can then be uploaded to Strava's Website so users can compare their performance to other riders, enter cycling events, and join clubs.
Riders who like to tackle hilly or mountainous routes have additional tools available to them in the app. Strava Cycling tracks a rider's elevation gain throughout the ride. For hilly routes attempted by other Strava users, the app will crown a "king" or "queen" of the mountain for top riders.
Strava Cycling is compatible with devices running iOS 4.0 or later, though developers say you'll need an iPhone 3GS or later to utilize the GPS features. The app is free.
Product mentioned in this article
(1 items)
Strava Cycling

Free

Amazon Shop buttons are programmatically attached to all reviews, regardless of products' final review scores. Our parent company, IDG, receives advertisement revenue for shopping activity generated by the links. Because the buttons are attached programmatically, they should not be interpreted as editorial endorsements.