Final Hours of Portal 2 app chronicles game's development
Portal fans have been patiently waiting for a sequel to their favorite puzzle adventure game for years, and it finally debuted this week on all major platforms, including the Mac. Now, thanks to game journalist Geoff Keighley, they can learn why they've been waiting so long and why it's all been worth it by delving into The Final Hours of Portal 2 for the iPad.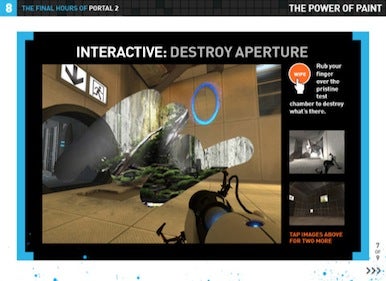 Keighley details the long and storied development of the popular Valve sequel with a behind-the-scenes look at the eagerly anticipated game. He captures the development process from start to finish and even gets an exclusive view of the secret prequel that Valve shelved in the eleventh hour.
The app lays out the story behind the sequel and its fabled predecessor with exclusive photos and videos of the early stages of the game and interviews and interactive videos with the game's chief developers. Keighley also promises a few other surprises.
The app is available only on the iPad for $2.
Product mentioned in this article
(1 items)
The Final Hours of Portal 2 $2.00

Amazon Shop buttons are programmatically attached to all reviews, regardless of products' final review scores. Our parent company, IDG, receives advertisement revenue for shopping activity generated by the links. Because the buttons are attached programmatically, they should not be interpreted as editorial endorsements.