Apple releases Canon, FujiXerox printer drivers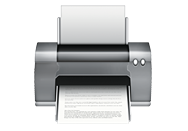 Looking to print a few flyers for your garage sale this weekend, or maybe print a few things for your upcoming Halloween party? If you use a Canon or FujiXerox printer, you probably should use one of the new drivers released by Apple on Thursday.
Canon Printer Drivers v2.7 for OS X installs the latest software for Canon printers and scanners. The 324.08MB download requires Mac OS X 10.6.1 or later. Apple provides a list of supported devices.
FujiXerox Printer Drivers v2.2.1 for OS X is a 50.06MB download that requires Mac OS X 10.6 or later. The release notes has a list of supported devices.
The driver downloads are available through OS X's Software Update. They are also available from Apple's Support site.

Amazon Shop buttons are programmatically attached to all reviews, regardless of products' final review scores. Our parent company, IDG, receives advertisement revenue for shopping activity generated by the links. Because the buttons are attached programmatically, they should not be interpreted as editorial endorsements.