MacBook Pro Video Update addresses freezes and other issues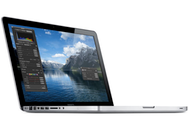 Apple on Monday released MacBook Pro Video Update 1.0, a patch specifically for problems afflicting the 15-inch, Mid-2010 MacBook Pro model.
The fix addresses an issue where affected MacBook Pros intermittently freeze or stop displaying video, either on the built-in display or an external display you've connected to the laptop. The video loss is sometimes preceded by what Apple calls "a restart warning message." Only MacBook Pros manufactured between April 2010 and February 2011 are affected, Apple says.
The Video Update is available via Software Update for Macs running OS X Lion 10.7 or higher. If your laptop is still running Snow Leopard, or if the software fix doesn't work, you must instead make an appointment with your local Genius Bar, Apple Authorized Service Provider, or Apple's tech support line. The company says it "will run a software diagnostic test to determine if your computer qualifies for service for this issue."
The company adds: "Apple will service affected 15-inch MacBook Pro computers free of charge until two years from date of purchase. Apple will provide further extensions to this program as needed. This worldwide Apple program does not extend the standard warranty coverage of the affected MacBook Pro."