Apple teases Black Friday shopping event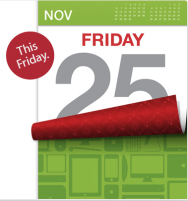 The day after Thanksgiving is for meditation, quiet reflection, and—above all—digestion. But should you be brave enough to partake in its other tradition—sheer, unadulterated capitalism—then rest assured that Apple's doors will be open and its prices will be discounted. This Friday, November 25, Apple will hold a one-day sale event at both its brick-and-mortar and online stores.
What kind of discounts might you expect? Well, if we look back through time with the benefit of our patented Retroscope, we can see that the company offered modest discounts on its products and accessories, as well as on third-party hardware and software—traditionally at a small percentage off the usual retail price. Sometimes you might find a deeper discount hidden amongst the offerings, but the only way to tell is to show up.
Me, I don't leave the house the day after Thanksgiving if I can help it—the name "Black Friday" doesn't exactly conjure up feelings of joy and optimism, right? Maybe they should rebrand for next year: I'm thinking "Happy Sparkly Friday."