Buying guide: Find the best iPad keyboard
Editor's note: We regularly update this buying guide to reflect the latest accessories on the market and to remove products that are no longer available. We've noted recent additions and removals in each section.
For serious typing sessions—or if you just can't get the hang of the iPad's onscreen keyboard—an external keyboard offers the tactile advantages of real keys without sacrificing the iPad's portability and touchscreen features.
The iPad supports almost any Bluetooth keyboard, but there are many, many keyboards on the market that are specifically made for use with the iPad. These tend to be designed for portability, and they usually include special-iOS-function keys for adjusting volume and screen brightness, controlling media playback, opening iOS's Spotlight-search screen, going to the home screen, and more. Some even offer dedicated cut, copy, and paste buttons. Most iPad keyboards are integrated into some sort of protective case, although some are stand-alone models. Regardless of the design, most include rechargeable batteries that last for weeks or months on a charge.
How do you choose the right one? I've tested scores of keyboards, for all iPad models. The result of all that testing is this buying guide, which includes both general shopping advice and specific recommendations. Read on to find the perfect keyboard for you.
Things to consider when shopping
Before I get into the different types of iPad keyboards, and recommended models, here are a few things to think about when shopping.
Always on or removable? If you frequently need a physical keyboard when using your iPad, you'll appreciate the convenience of a keyboard built into a case, as the keyboard will always be with you. If, however, you use an external keyboard infrequently—or you just like to use the iPad unencumbered for non-typing tasks—you may find a form-fitting, folio-style keyboard case to be a hassle, as it can be difficult to remove. Keyboard shells, described below, are a nice compromise, and stand-alone keyboards offer the most flexibility.
Portability versus usability: With the exception of stand-alone models, iPad keyboards involve usability trade-offs: The thinner the keyboard, the worse the feel of the keys; the smaller the keyboard, the more crowded the keys will be, or the more you'll find keys that are the wrong size or in the wrong locations. (Stand-alone keyboards generally offer standard key feel and size, a standard key layout, and a typing experience closer to that of a desktop keyboard.) You'll need to decide which trade-offs you're willing to make in the name of portability—especially if you're a touch typist—and check for these trade-offs when shopping. A literal hands-on test is immensely valuable if you can get one; otherwise, be sure the store or website you're buying from offers a good return policy.
On that note, while there are plenty of iPad keyboards that offer interesting features, an attractive design, or a small footprint, when making specific recommendations, I place a heavy emphasis on the typing experience: If a keyboard doesn't dramatically improve typing compared to the iPad's on-screen keyboard, I don't recommend it. Similarly, my recommendations are somewhat biased toward touch-typists, so a keyboard that's especially cramped or that organizes keys in a nonstandard layout has to be otherwise very impressive to get my recommendation. (There's likely a good amount of overlap between touch-typists and people who want a physical keyboard, so I'm fairly confident that this is the right approach.)
Which iPad do you have? A little over a year ago, it was easy to figure out which keyboard case would fit your iPad: If you had an original iPad, you needed an older accessory designed specifically for that model; otherwise, you needed a newer keyboard case that fit the second-, third-, or fourth-generation iPad. (The iPad 2, 3, and 4, as I'll call them here, vary slightly in thickness, but if a keyboard case fits one of these models, it usually fits the others, as well.)
These days, it's a bit more complicated. Few keyboard cases are still available for the original iPad, but there are now models for the iPad 2/3/4, models for the iPad Air, and models for the iPad mini. If you're shopping for a keyboard case—rather than a standalone keyboard that works with any iPad—be sure to get the right one for your iPad. To help you out, I've noted in my recommendations which keyboard cases fit which full-size iPads; if you're looking for a keyboard for the iPad mini, I've included a separate section for the mini at the end of this guide.
With that out of the way, here's a look at the main types of iPad keyboards available, along with my recommendations for a few of the best in each category.
Folio-case-style keyboards
Easily the most common type, these keyboards are integrated into a full-body, folio-style iPad case that protects your iPad all over. The all-in-one design of folio keyboards is convenient, and most make it easy to type on your lap—no desk or table required. In the past, most of these models used a leather (or leather-like) folio case, but more and more are now using plastic shells to reduce size and weight. These models, along with keyboard shells (below), also tend to include the thinnest keyboards.
However, folio keyboards have a few drawbacks that can affect usability and comfort. For starters, the actual keyboards tend to be cramped and have small, poor-quality keys, sometimes using odd layouts. Many also limit the iPad to a single propped-up angle and landscape orientation—even though portrait orientation is often better when you're typing traditional documents. It's often a hassle to remove the iPad from the case, which means you end up carrying the keyboard even when you don't need it—yet it can also be inconvenient to use your iPad as a tablet while it's in the case. (On some, you flip the keyboard behind the iPad, making for a bulky package.) My recommended models do have smaller-than-standard keyboards, but they otherwise make solid attempts to avoid these flaws. They also all support the iPad's magnetic sleep/wake feature.
Recommendations: Zagg's $130 ZaggKeys ProFolio+ (iPad 2, 3, 4) is pricey and supports only a single (rather steep) iPad angle. But its keyboard is easy to type on and not too cramped, and it even sports backlit keys, allowing you to choose the brightness level and cycle through 14 backlight colors. The ProFolio+ case offers excellent all-over protection thanks to a sturdy back cover; it's easy to remove your iPad from the case; and it's among the thinnest folio-style keyboards for older iPads. (The $100 ZaggKeys ProFolio loses the backlit keys but is otherwise identical. Each model is available in five colors.)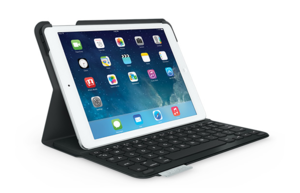 In terms of traditional "looks like a leather folio" keyboard cases, the best ones I've seen are Logitech's $100 Ultrathin Keyboard Folio for iPad Air and $100 Keyboard Folio for iPad (iPad 2, 3, 4). The keyboards of the two models are essentially identical: The keys have great tactile response, they're larger than those on most folio keyboards, and they're spaced normally. Logitech accomplishes this feat by making a few symbol keys on the right—[ ] \ ; and '—half-width, and by converting the Tab and Caps Lock keys into fn-key-activated overlays of the Q and A keys, respectively. If you use either Tab or Caps Lock frequently, this arrangement may not be for you, but I suspect that most people will be willing to give up one-touch access to these functions in favor of a full-size-keyboard feel. You get the usual array of iOS special-function keys, accessible as fn-key overlays of the top row of numbers and symbols, as well as text-selection keys as overlays of the arrow keys. I have just two minor complaints about the keyboard: The keys are slightly convex, instead of concave, and the aforementioned Tab/Caps Lock trick shifts the entire keyboard slightly to the left, so your hands aren't centered on the iPad's screen. But you get used to both oddities fairly quickly.
The main differences between the Ultrathin Keyboard Folio and the Keyboard Folio for iPad, besides which iPad models each fits, have to do with the folio itself. Both look nice and include a special fold in the cover that lets you slide your iPad on top of the keyboard for use as a standard tablet. However, the original Keyboard Folio uses a thick internal frame, has a nylon covering, and is roughly one inch thick, while the Ultrathin Keyboard Folio is considerably thinner (both because the iPad Air is thinner that older models and because the case itself uses a thinner design), has a thinner frame, and is covered in your choice of a similar nylon or a rubbery "PU leather."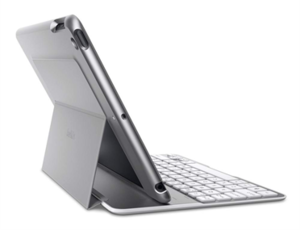 Honorable mentions: Many other models in this category are simply bulky leather or faux-leather folios with a disappointing keyboard tacked onto the inside of the case. However, a couple models get my limited recommendation.
Belkin's $129 Qode Ultimate Keyboard Case for iPad Air (iPad Air) and $100 Qode Ultimate Keyboard Case for iPad (iPad 2, 3, 4) are worth a look, especially for non-touch-typists. (The models differ slightly, but they're basically minor variations on the same product.) First, the bad things: The keyboard is more cramped than those of the recommended models above; Belkin has overlaid the special-function keys with the number keys in the top row (you access the former using the Fn key); and a few keys are in non-standard locations that will drive touch-typists crazy. But the keyboard itself is otherwise pretty good; the case offers three different screen angles and a thin, rigid shell that provides good protection; and you can flip the keyboard behind the iPad for traditional tablet use—the keyboard automatically turns off when your iPad isn't propped up. Best of all, the iPad Air version is just over half an inch thick when closed, and the keyboard and iPad Air together weigh under two pounds.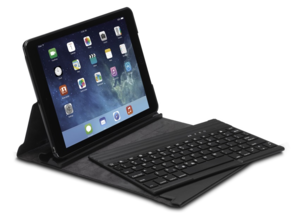 Kensington has released a whole line of keyboard folios for the iPad Air, and they're worth mentioning here because of the keyboard they share. Though its keys are a bit small, and they don't feel quite as nice as those on the recommended models above (for example, I found that I had to press keys a bit more firmly than on those keyboards), the key layout is standard and the keyboard is easy to touch-type on. Along with the usual variety of iOS-specific keys, arranged in a separate row above the number row, Kensington's new keyboard design includes an iOS-7-compatible Spotlight-search key and a key for quickly accessing iOS 7's multitasking screen. You also get a couple keys for quickly selecting text. My only major complaint about this keyboard is that there's a raised frame at the front, just below the Spacebar and modifier keys, that's slightly taller than the keys. At times, I "pressed" this piece when I meant to press a modifier key.
Of the new Kensington offerings, my favorite is the $130 KeyFolio Exact Thin Folio with Keyboard for iPad Air. (The $150 KeyFolio Exact Plus Thin Folio with Keyboard for iPad Air is the same product but with a backlit keyboard.) The overall package is thin, though it's quite deep, front edge to back: 8.2 inches when closed, and 9.5 inches when open with your iPad propped up. In return for this added depth, you get multiple screen angles and a built-in stylus holder, and you can remove the keyboard itself from the folio for a more-ergonomic typing arrangement. It's not the most-attractive keyboard folio—for example, there are some flaps of extra material that will surely show wear and tear over time—but it's versatile.
Latest update: Added Logitech's Ultrathin Keyboard Folio for iPad Air, Belkin's Qode Ultimate Keyboard Case for iPad Air and Kensington's KeyFolio Exact Thin Folio with Keyboard for iPad Air. Updated prices. Removed Zagg ZaggFolio for iPad 2 and Logitech Solar Keyboad Folio, which have been discontinued.
Clamshell (laptop-case) keyboards
These models essentially turn your iPad into a laptop: The iPad acts as the laptop screen, while the keyboard and its surrounding enclosure, attached by some sort of hinge, play the role of the laptop base. complete with large palmrests. The downsides to most clamshell keyboard cases are that they tend to add a good amount of weight and bulk to your iPad; they usually make it difficult to use your iPad as a tablet when you're not typing; and they use smaller-than-normal keys in a cramped layout. But the quality of the keys is often a step up from that of the average folio-case keyboard; the laptop-style design works well for typing on your lap; and most offer a good range of screen angles. Like folio-style models, most clamshells hold the iPad in landscape orientation, though you may find ones that let you prop the tablet up in portrait orientation.
Recommendations: ClamCase is the best-known vendor of clamshell keyboard cases, and for good reason: The $169 ClamCase Pro (iPad 2, 3, 4) is a great combination of clever design, solid iPad protection, and a very good (if slightly cramped) keyboard. Though on the heavy side—three pounds including your iPad—this well-built clamshell encloses your iPad in an attractive, aluminum-and-plastic case that looks and functions almost exactly like a laptop—so much so that while testing it, I often tried to use a palmrest trackpad that doesn't exist. Flip the keyboard/base around toward the back, and the solid hinge makes a great stand for watching video; or rotate the base and fold it flat against the back of the iPad to turn the entire package into a thick tablet. (Just be sure to turn off the keyboard to avoid accidental typing.) The keyboard itself is one of the best I've seen in a keyboard case: It's a bit cramped, and the modifier keys are on the small side; but all the keys are in the correct place, it's got a nice array of special-function keys, and there's little here that will frustrate a touch-typist. The ClamCase Pro offers one of the best on-your-lap typing experiences of the iPad keyboard cases I've tested. (The company has announced, but not yet shipped, models for the iPad Air and the iPad mini.)
ClamCase's $149 standard ClamCase—available in black, white, or black-and-white, with specific versions for each iPad generation—is bulkier, uses an all-plastic case, and has keys that aren't as good, but it's still a decent option if you insist on a clamshell model.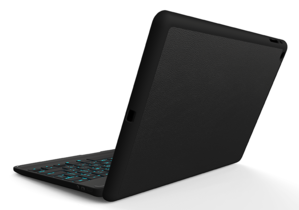 Despite its name, Zagg's $100 ZaggKeys Folio with Backlit Keyboard (iPad Air) feels like a clamshell case. It uses a rigid iPad shell connected to the keyboard base by a stiff hinge. But unlike most clamshell cases, the Folio does your iPad Air justice by keeping things thin: The closed Folio is just 0.7 inch thick, and the whole package—iPad Air and Folio—weighs just 2.3 pounds. The Folio's keyboard, like that on the ProFolio+, above, is easy to type on and offers backlit keys. The Folio's hinge makes it easy to use the Folio on your lap; however, the hinge's design makes it a challenge to access iOS 7's Control Center feature, since the bottom edge of the iPad's screen is so close to the hinge. The shell covering your iPad has nifty channels that redirect your iPad's audio toward you; and both the top and bottom of the case offer a nice, grippy texture. Like the ClamCase Pro, this one offers a very good on-your-lap experience.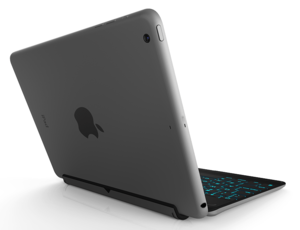 If you want even less bulk, Zagg's $100 ZaggKeys Cover for iPad Air is essentially an iPad Air version of the company's older ZaggKeys Cover for iPad mini. Like the Brydge, below, the Cover for iPad Air forgoes a protective iPad cover on top in order to give you an extremely thin clamshell-keyboard design. Instead of such a cover, the back edge of the keyboard/base hosts a wide, sturdy hinge with a slot for the edge of your iPad Air. Slip your iPad into that slot—it takes a bit of force to insert or remove—and your bare iPad serves as the "laptop" screen and top case, folding flat against the base to cover the screen for transit. The Cover's keyboard is excellent—it's the standard model used on all recent Zagg keyboard cases—and conveniently backlit. The Cover adds only a quarter of an inch and under a pound of weight to your iPad, and the hinge is sturdy and adjustable, making this a great lap-typing option. My biggest beef is that the hinge, like the one on Zagg's ZaggKeys Folio, makes it extremely difficult to access iOS 7's Control Center feature.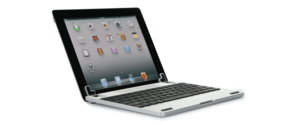 Honorable mentions: Brydge's Brydge+ ($200 for aluminum, $100 for black polycarbonate composite; iPad 2, 3, 4), like the ZaggKeys Cover, above, uses your iPad as the top of the clamshell. Instead of a single, wide hinge, the Brydge+'s keyboard/base hosts two narrow, but still sturdy, hinges. You slip your iPad into these silicone-lined hinges, and they grab the tablet firmly enough that the keyboard won't detach without some firm tugging. The Brydge+ also includes a pair of tinny-but-decent Bluetooth speakers to give you louder audio. (The company offers a $170 model that omits the Bluetooth speakers.) The Brydge+ is a well-made and impressively designed accessory—especially the aluminum version—but there's a caveat for touch-typists: The keyboard has good keys, but in addition to being slightly cramped, it wedges the up-arrow key between the right-hand slash (/) and Shift keys. In my testing, I regularly pressed the up-arrow key, thus moving the cursor to the previous line, when I meant to press Shift. I could never get past this odd layout.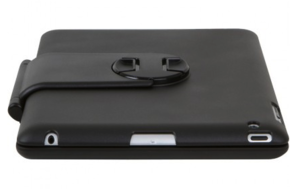 New Trent's $40 Airbender Keyboard Case (iPad 2, 3, 4) has a keyboard that's a tad more cramped than those of the Brydge+ and ClamCase models, its keys feel just okay, and it commits the same key-layout sin with the up-arrow key as the Brydge+. But the Airbender offers some unique and welcome features: After lifting the "screen," you can rotate the iPad into portrait orientation—in fact, it's the preferred orientation, as the hinge/stand isn't very sturdy in landscape orientation. In addition, the hinge/stand can detach from the keyboard, letting you create a more ergonomic typing station by placing your iPad and the keyboard at different levels. And if you want to use the iPad on its own, a quick-release latch on the stand lets you detach the iPad, still clad in the Airbender's thin, protective top case. If the keys themselves were better, this might be the keyboard case I'd use all the time. (New Trent has just released the $65 Airbender Air and the $70 Airbender 2.0, both compatible with the iPad Air. I'll be testing these models when I receive them, and I'll update this article with my impressions.)
Latest update: Added Zagg's ZaggKeys Folio with Backlit Keyboard for iPad Air and ZaggKeys Cover for iPad Air. Updated prices. Added info about New Trent's new models for the iPad Air.
Keyboard shells
These models are the thinnest and lightest of the keyboard cases. They integrate a thin keyboard into a rigid shell that protects the front (screen) of the iPad in transit. When you're ready to type, you pop the iPad out of, or pull it away from, the shell; stick it in a prop-up slot above the keyboard; and start typing. Most keyboard shells offer only a single angle for your iPad, though they often let you use your iPad in your choice of portrait or landscape orientation. As with clamshell-case models, the keyboards here tend to be a bit cramped, and the keys are usually smaller than normal; the models I've recommended are nevertheless quite usable, and they have good keys. Keyboard shells can be used on your lap if you're careful, but they're usually less stable on your lap than folios and clamshells, especially if your iPad is positioned in portrait orientation.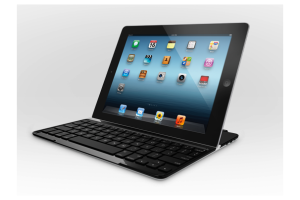 Recommendations: Logitech's $100 Ultrathin Keyboard Cover for iPad (iPad 2, 3, 4) and Ultrathin Keyboard Cover for iPad Air (iPad Air) are personal favorites thanks to a clever design, thin profile, light weight, very good (if slightly cramped) keys, and standard key layout. Instead of gripping the edges of your iPad, each Ultrathin Keyboard Cover uses a Smart Cover-like hinge that attaches magnetically to the edge of the tablet; the keyboard then flips closed (again, sticking magnetically) to protect your iPad's screen. When you're ready to type, you just flip the keyboard away from the screen, give it a gentle tug to detach the hinge, and then stick your iPad in the slot above the keys. Combine the Ultrathin with a Smart Cover-compatible back shell, and your iPad is completely protected in transit.
The original and iPad Air versions of the Ultrathin Keyboard Cover are very similar, though the one for the iPad Air is, of course, smaller. The new model also includes a few tweaks to its keys: It removes the right-hand Command and Option keys in favor of a language key; it gains Previous and Next media-playback keys; it adds special-function keys for Siri and iOS 7's multitasking screen; and it loses the Spotlight-search key. A few keys are also narrower than on the original version, and instead of fingerprint-magnet glossy black, the area above the keyboard has a nicer matte finish.
Zagg's $130 ZaggKeys Pro Plus and $100 ZaggKeys Pro (iPad 2, 3, 4) each uses the same solid keyboard as the company's ProFolio+, above, but in a keyboard-shell body that clings magnetically to the front of your iPad during transit. As with the Logitech Ultrathin, you just detach the ZaggKeys Pro from your iPad, prop your iPad in the slot above the keys, and type away. The Pro Plus includes backlit keys; the Pro does not.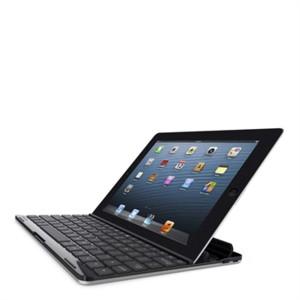 Honorable mentions: Belkin's $80 FastFit Keyboard Cover (iPad 2, 3, 4) is similiar in design to Logitech's Ultrathin Keyboard Cover, but without the magnetic hinge. Instead, it's got a magnetic lip along the back edge that holds the iPad in place during travel. It bests the Ultrathin by offering two grooves for your iPad, so you get a choice of two screen angles. However, the FastFit's keys are a bit smaller; the square shape of those keys feels a little off; and the FastFit makes the same touch-typist-thwarting mistake with the up-arrow key as the Brydge+, above.
Latest update: Added Logitech's Ultrathin Keyboard Cover for iPad Air.
Keyboard overlays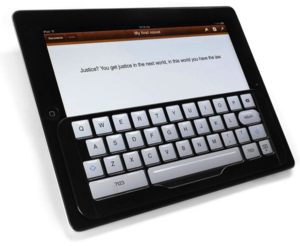 Instead of a physical keyboard, several companies offer overlays that lie on your iPad's screen—generally secured using magnets or some kind of sticky silicone–and add a tactile feel to the iPad's software keyboard. For example, Touchfire's $40 Touchfire Keyboard for iPad (iPad 1, 2, 3, 4) is a clear, silicone overlay that adds little nibs to each virtual key's "top," as well as slighty raised ridges around each key. The Touchfire does make typing a bit more tactile for touch-typists, but the overall experience isn't otherwise much different than typing on the bare screen. And I found that because of the tactile feel, I frequently rested my fingers on the Touchfire's key areas, which resulted in accidental key taps.
The $35 TacType (formerly called the iKeyboard; iPad 2, 3, 4) instead uses a rigid-plastic frame with clear, bubble-like key overlays. This approach prevents accidental keypresses, and I liked typing with it better than with the Touchfire, but I found the bubbles to be too difficult to press compared to good physical keys.
Keyboard overlays can be convenient—they take up quite a bit less space than a full keyboard, and they don't require batteries or charging—but I personally don't find them to be enough of an improvement over the iPad's on-screen keyboard to make them worth the cost. And, of course, you must move them out of the way whenever you want to use the iPad's screen normally.
Continue to the next page for stand-alone keyboards, desktop/tablet keyboards, stands and cases for keyboards, and iPad mini keyboards.