Macworld buying guide: iPad styluses
At a Glance
Ten One Design Pogo Sketch Pro

Wico-C Stylus

Generic Company Place Holder Crayola ColorStudio HD

Mike Mak Big Big Cursor

Belkin Chef Stand + Stylus

Logiix Stylus Platinum

SGP Kuel H12

Kensington Virtuoso Metro Stylus and Pen

Griffin Technology Stylus + Pen + Laser Pointer

BoxWave Meritus Capacitive iPad Styra

Bracketron Style-iT 2-in-1

Aponyo Click Stylus

Elago StylusPick

Adonit Jot Pro

NomadBrush Nomad Play

NomadBrush Nomad Mini

Griffin Technology iMarker
Whether you're looking to put that newly-received iPad to good artistic use, or it's cold outside and you just want an external pointer, there are many options to choose from. There are styluses for writing, styluses for painting, styluses for navigating, and even styluses for playing a virtual guitar. The market has exploded, bringing new types, new variations, new nib sizes, and—more than anything—new complications. Whatever your use case may be, here's a guide to help you find what you need—so you can get to the fun part.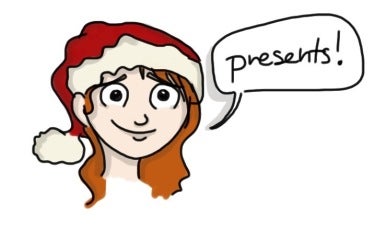 I've divided styluses into several categories: nib, multifunction, and unconventional, describing some of the more popular options in each. Below each section, there's an in-depth review chart, which rates styluses in the following seven categories from 1 (worst) to 5 (best): resistance, ergonomics, precision, navigation, writing, linework, and painting. In addition, there's an overall mouse rating. Certain products I haven't been able to test personally, but have included in this roundup due to overall popularity and general recommendation. (In the charts, they're listed as "N/R"—not rated.)
Wonder why your favorite stylus missed the cut? Some pen styles are very similar, so rather than include seven versions of the same basic stylus, I've picked what I think is the best manufacturer of that style and included it here. In addition, styluses must be currently shipping (no longer on Kickstarter) and available for general ordering.
Nib styluses
Tried-and-true, nib styluses were the first kind to market for touchscreen devices—and they show no signs of going away. Manufacturers began with big foam-tipped capacitative styluses and iterated to large silicon rubber nibs, which were then reduced and experimented upon.
There are two kinds of nib pens: large (the nib is 7mm or larger in diameter), and small (6mm or smaller). Each has their own distinctive use case, so I've broken up this category accordingly.
Large nibs (7mm - 8mm): Built to emulate the diameter of a pointer finger, these pens are usually marketed for sketching; they're often too large or improperly weighted for any sort of proper handwriting. In their favor, they offer a lot of surface area and work quite well as secondary pointers when your finger is unable to come to task.

Those in the large nib category include the Belkin Chef Stand + Stylus ($40), AluPen ($25), Architect Stylus ($25), and the Griffin Stylus ($20). Of these, the AluPen remains my favorite big-nib stylus for all-purpose sketching and navigation. It's well-balanced, fits nicely in your hand, and offers just enough resistance without being a stick in the mud.
Small nibs (5mm - 6mm): The extra millimeters make all the difference for these pens, helping them execute detailed sketches and write with ease. In addition, smaller nibs usually have more side surface area, so you can tilt your pen at a steeper angle while you draw or write. They have less cushioning than the larger nibs, however, so they may not have the same comfort level when using for a task like navigation.

Small-nibbed pens include the Aponyo Click Stylus ($30, fabric), Wacom Bamboo Stylus ($30), Pogo Sketch Pro ($25, rubber and foam), Kuel H12 ($20), Pogo Sketch ($15, foam), and Kuel H10 ($13). The Wacom Bamboo Stylus continues to be my favorite small-nib pen for writing, sketching, and detail work. It gets the balance, resistance, and comfort level just right, though the Kuel H12 is a nice alternative for those who wish to save a little money.
Nib styluses
| Stylus | Price | Nib | Extras | RES | ERG | PRE | NAV | WRI | LIN | PAI | Overall |
| --- | --- | --- | --- | --- | --- | --- | --- | --- | --- | --- | --- |
| AluPen | $25 | rubber, 8mm | available in colors | 4 | 3.5 | 3.5 | 3 | 3.5 | 4 | 3.5 | |
| Griffin Stylus | $20 | rubber, 8mm | Clip | 3 | 2 | 3 | 4 | 2.5 | 3 | 3 | |
| Aponyo Click Stylus | $30 | fabric, 6mm | Click nib, clip | 2 | 3 | 2.5 | 3 | 3 | 3 | 3 | |
| Wacom Bamboo Stylus | $30 | rubber, 6mm | Clip, available in colors | 4.5 | 4.5 | 3.5 | 3 | 4 | 4.5 | 3.5 | |
| Pogo Sketch Pro (foam nib tested) | $25 | rubber/foam, 6mm | Choice of rubber or foam nib | 4 | 4 | 3.5 | 3.5 | 3.5 | 4 | 3 | |
| Pogo Sketch | $15 | foam, 6mm | Clip | 3 | 3.5 | 3 | 4 | 2.5 | 3.5 | 3 | |
| Pogo Stylus | $15 | foam, 6mm | N/A | 3 | 2 | 3 | 4.5 | 2 | 3 | 3 | |
| Kuel H12 | $20 | rubber, 6mm | Twist nib, clip | 4 | 4 | 3 | 3 | 3.5 | 4 | 3 | |
| Kuel H10 | $13 | rubber, 6mm | Telescoping handle, cap with dongle | 3.5 | 3.5 | 2.5 | 4 | 3.5 | 4 | 4 | |
| Belkin Chef Stand + Stylus | $40 | rubber, 8mm | Stand for stylus, iPad | N/R | N/R | N/R | N/R | N/R | N/R | N/R | N/R |
| Architect Stylus | $25 | rubber, 7mm | Capped stylus | N/R | N/R | N/R | N/R | N/R | N/R | N/R | N/R |
Multipurpose styluses
It's a stylus! It's a pen! It's a… laser pointer? These multi-function styluses have become increasingly popular as of late, combining ballpoint pens and 8mm rubber nibs to create a more functional option for buyers. While the added weight lends some nice balance for those who wish to digitally write on their iOS device, they're definitely not the stylus you want to consider if you plan to do any sort of heavy-duty sketching or painting work.

I previously reviewed the Hard Candy StylusPen ($35) in my roundup last May. Most of my admirations and criticisms remain: It's a beautifully designed stylus with nice weighting, but its Space Pen-like form makes it hard to figure out which end of the pen you're uncapping (without looking for the logo), and there's no place to put the cap without worrying about it rolling about.

Though the Logiix Stylus Platinum ($30) has a nifty silver tip, it fails to achieve high marks in ergonomics or precision. Drawing and writing is passable, but there are better multipurpose pens on the market.

The Targus 2-in-1 Stylus for iPad ($27), which I previously reviewed in the May roundup, provides a nice weight-counterweight when writing or sketching, but it's not enjoyable to do so for long periods of time.

A cheaper version of the Kensington Virtuoso Touch Stylus & Pen I reviewed last May, the Virtuoso Metro Stylus and Pen ($18) eschews the former's rubberized metal structure for a cheaper plastic shell. It doesn't particularly stand out in any category, but neither does it majorly suffer from weakness—it's an average hybrid stylus at a reasonable price.

My favorite hybrid stylus, the HyperShield 3-in-1 Smart Pen ($40, on sale for $10) has just the right amount of weight balance and resistance, along with a slim anodized aluminum form and multiple color options. Both the stylus and pen perform admirably, and—if you own an iPad 2—you can even use it to wake up your device (or send it to sleep) thanks to a built-in magnet.

Though I wasn't able to have personal hands-on time with the Bracketron Style-iT 2-in-1 ($25), Boxwave Meritus Capacitive iPad Styra ($23), or Griffin Stylus + Pen + Laser Pointer ($50), I'm including them as alternate popular options in this category. The Bracketron and Boxwave styluses are both slim hybrid pens: The first offers a capped pen-and-clip, while the latter has a twist-to-reveal option. The Griffin stylus is the most expensive of the bunch, by far, partially owing to its construction (which puts most Transformers to shame): You can rearrange and unscrew the device to create a rubber nib stylus, add a pen tip, swap to a laser pointer, or create a double-ended nib/pen, nib/pointer, or pointer/pen.
Multifunction styluses
| Stylus | Price | Nib | Extras | RES | ERG | PRE | NAV | WRI | LIN | PAI | Overall |
| --- | --- | --- | --- | --- | --- | --- | --- | --- | --- | --- | --- |
| Hard Candy StylusPen | $35 | rubber, 8mm | Capped pen | 3 | 3.5 | 2.5 | 2.5 | 4 | 3 | 2.5 | |
| Logiix Stylus Platinum | $30 | rubber, 8mm | Twist pen, clip, black or white | 2.5 | 2.5 | 2 | 2.5 | 2.5 | 3 | 3 | |
| Targus 2-in-1 Stylus | $27 | rubber, 8mm | Capped pen, clip | 3.5 | 2 | 1.5 | 3 | 3.5 | 3 | 3 | |
| Kensington Virtuoso Metro Stylus and Pen | $18 | rubber, 8mm | Capped pen, clip | 3 | 3 | 2.5 | 2.5 | 3 | 3 | 3 | |
| HyperShield 3-in-1 Smart Pen | $40 | rubber, 8mm | Capped pen, magnet (for the iPad 2), multiple colors | 3 | 4 | 3 | 2.5 | 3.5 | 3.5 | 3.5 | |
| Bracketron Style-iT 2-in-1 | $25 | rubber, 8mm | Capped pen, clip, multiple colors | N/R | N/R | N/R | N/R | N/R | N/R | N/R | N/R |
| Boxwave Meritus Capacitive iPad Styra | $23 | rubber, 8mm | Twist pen, clip | N/R | N/R | N/R | N/R | N/R | N/R | N/R | N/R |
| Griffin Stylus + Pen + Laser Pointer | $50 | rubber, 8mm | Transformer pen, laser pointer, clip | N/R | N/R | N/R | N/R | N/R | N/R | N/R | N/R |
Unconventional styluses
Rubber nibs may make up the majority of styluses on the market, but for those who need a more specialized tool, these unconventional options provide all sorts of opportunities for your iOS device. Capacitative brushes, rubber-lined picks, options for children, and telescoping handles—whatever your need, there may be a stylus ready and waiting for you.
Drawing, sketching, and precision: The Nomad Brush was the first capacitative paintbrush to market in 2010, and it continues to dominate as it iterates. Don Lee's latest creation, the Nomad Compose ($39), has two brushes on either end: One is the typical Nomad brush; the other, a slanted buzz-cut brush option that resembles the foam nibs of early stylus experimentation—except made up entirely of bristles. The result cures most of the gripes I had with the original Nomad Brush—while the longer bristles make navigation and writing next to impossible, the slanted buzz-cut brush is more than capable in both these areas.
The Nomad Mini ($20), another Don Lee creation, is a shorter single brush designed for the iPhone and iPod touch. Though, like the longer brush on the Nomad Compose, it runs into trouble with writing or repeated precision, it's a fine tool for iPhone sketching when you'd rather not use your finger.

I reviewed the oStylus ($38) earlier in the year. The idea behind the stylus—being able to see your lines through the O shaped washer nib as you make them—is solid, but when compared to other options on the market, the oStylus still has a ways to go in terms of actual functionality.

The Adonit Jot Pro Stylus ($30) makes good on the oStylus's "see your lines while you draw" promise, though writing can sometimes be a pain. Instead of a metal disc, the Jot Pro uses a thin plastic capacitative circle, attached to a single metallic pen point. It's nice to hold, easy to pivot, and does quite well on linework and precision.

From Studio Neat, the folks who brought the Glif to market, the Cosmonaut ($25) is the company's answer to the burgeoning rubber stylus market. The pen is big and thick—resembling a large charcoal stick even moreso than the AluPen—and instead of an 8mm nib, the Cosmonaut's entire front tip can interact with your device. It's exceedingly comfortable to hold, and spins out doodles and linework with aplomb. Writing is a little more challenging, as you can't quite get the angle needed for handwriting or print, and navigation can feel a little clunky with the pen's large tip, but overall, it's a stellar option for stylus seekers.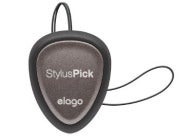 Strum on: Want an extra bit of immersion when you're picking that virtual guitar? Woodees makes an iPic ($15) stylus that sticks an 8mm rubber nib on the bottom of a traditional pick. The Elago StylusPick ($15), in contrast, has a capacitative rubber coating surrounding a pick-shaped tool.
You know, for kids: Though the stylus market doesn't necessarily exclude children, there are a few manufacturers designing and creating child-centric styluses—some with their own apps—for easy doodling and artistic creation.
Griffin and Crayola partnered to create the iMarker ($30), which sports an extra-large rubber nib on a crayonlike body for easy gripping and drawing. In addition, the stylus is designed to interact with the ColorStudio HD, a child-friendly art app that lets them draw and color with marker, crayon, pen, or paintbrush effects.
For kids who are a little older (or those who really like to paint), Nomad Brush has created the Nomad Play ($18), a delightfully quirky big-handled version of the company's capacitative brushes. The Play comes in four bright colors—blue, green, red, and yellow—each with its own themed engraving. (I had the pleasure to paint with the blue Astro Nomad Play, and I foresee any kid with an art interest and a love of space travel adoring this stylus.) Like Nomad Brush's other offerings, the Play's long brush proves difficult for navigation, so this is definitely a painting-and-sketching-only kind of brush. That said, it's cute enough to make an excellent playroom addition.
More "cute gimmick" than "useful stylus," the Big Big Arrow and Big Big Pointer ($13) are giant recreations of the arrow and pointer hand of the Mac days of yore. They're hilarious to work with, but challenging to actually make contact—the capacitative foam doesn't always register a touch, and you need to hold the stylus in a certain way to make it functional.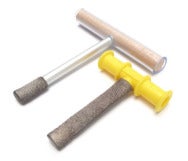 Accessibility: Though there aren't very many styluses marketed specifically for those who might need additional assistance when navigating their iPad, there are a few manufacturers who have options available. The Etsy store Amazing Family Material offers several conductive fabric-nib styluses on mouthsticks and t-shaped grips. Stylus-R-Us also offers an array of telescoping styluses that extend as long as 25 inches. The Wico Stylus ($14) is a fabric-based stylus designed to be worn around a finger; you can then move your entire hand to precisely control it.
Unconventional styluses
| Stylus | Price | Nib | Extras | RES | ERG | PRE | NAV | WRI | LIN | PAI | Overall |
| --- | --- | --- | --- | --- | --- | --- | --- | --- | --- | --- | --- |
| Nomad Mini | $20 | paintbrush | designed for iPhone | 3 | 3.5 | 1 | 4 | 2 | 3.5 | 4 | |
| Nomad Compose | $35 | dual brush | dual ends; long brush and short slanted brush for navigation | 3 | 4 | 1.5 | 3.5 | 3.5 | 3.5 | 5 | |
| Nomad Play | $18 | paintbrush | wooden handle design, for kids, multiple colors | 2.5 | 4 | 1 | 1 | 1 | 2 | 4.5 | |
| oStylus | $38 | metal ring | N/A | 3 | 3 | 2 | 1.5 | 3 | 3.5 | 3 | |
| Adonit Jot Pro | $30 | plastic disk | Capped nib, multiple colors | 3 | 3.5 | 3.5 | 2 | 2.5 | 4 | 3.5 | |
| Cosmonaut | $25 | rubber stick | black or brown | 3 | 4.5 | 3 | 2.5 | 2.5 | 4 | 2 | |
| Wico Stylus | $14 | fabric | worn on finger, multiple colors | 2 | 3.5 | 1 | 3.5 | 3 | 2 | 3 | |
| iPic | $15 | rubber, 6mm | Guitar pick with stylus tip | 3.5 | 4 | 2.5 | 3.5 | N/A | N/A | N/A | |
| Big Big Arrow, Big Big Pointer | $13 | rubber arrow/pointer | N/A | 1 | 2 | 1 | 1 | 1 | 1 | 1 | |
| Elago StylusPick | $15 | rubber edges | Guitar pick rimmed with capacitative rubber, dongle | N/R | N/R | N/R | N/R | N/R | N/R | N/R | N/R |
| Griffin Crayola ColorStudio HD | $30 | rubber, 8mm | Capped nib, companion app | N/R | N/R | N/R | N/R | N/R | N/R | N/R | N/R |
[Serenity Caldwell is a staff editor for Macworld.]
At a Glance
Ten One Design Pogo Sketch Pro

Wico-C Stylus

Generic Company Place Holder Crayola ColorStudio HD

Mike Mak Big Big Cursor

Belkin Chef Stand + Stylus

Logiix Stylus Platinum

SGP Kuel H12

Kensington Virtuoso Metro Stylus and Pen

Griffin Technology Stylus + Pen + Laser Pointer

BoxWave Meritus Capacitive iPad Styra

Bracketron Style-iT 2-in-1

Aponyo Click Stylus

Elago StylusPick

Adonit Jot Pro

NomadBrush Nomad Play

NomadBrush Nomad Mini

Griffin Technology iMarker