capsule review
Cars 2 AppMates for iPad
At a Glance
Generic Company Place Holder Cars 2 AppMATes
I would love to be able to give a definitive review of Version 1.1.1 of Cars 2 AppMates, the iPad app that supports the AppMates iPad toys. Trouble is, every time I went to use the app with the miniature cars that resemble the characters from last summer's Cars 2 animated feature, AppMates crashes.
I would drive down the virtual streets of Radiator Springs, and the app would crash. I would try to upgrade my tires, and the app would crash. Race some virtual opponents in one of the many tracks around Radiator Springs? Crash. (And not the exciting vehicular kind.) Try to interact with Flo, Fillmore, Sarge, or any of the other Cars characters? Crash, crash, crash. Uninstalling the app—wiping out any progress I had made using a version prior to the 1.1.1 update—and restarting my iPad seemed to quell many of the crashing issues.
I used the app enough before version 1.1.1's winter-themed additions to get a flavor for AppMates. The content that is there should delight younger fans of the Cars movies, although I occasionally struggled with the game mechanics.
The AppMates app recreates the Radiator Springs setting of the first Cars movie. By placing an AppMates toy on your iPad's screen and gripping both of its sides with your fingers, you can drive through the streets of Radiator Springs, as if you were a part of the game. If you don't have one of the toys—they'll set you back around $12 or $23 for a pack of two—you can use a digital version of Lightning McQueen that comes with the game. (Other digital characters are available via in-app purchase.)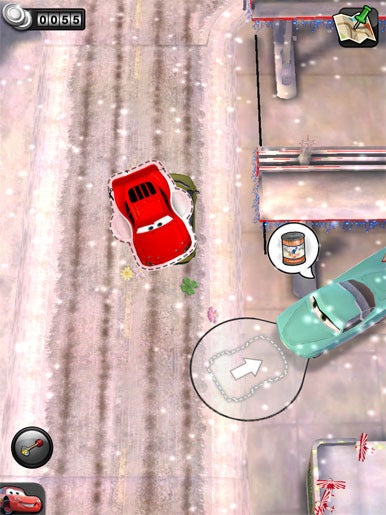 Within Radiator Springs, you can perform missions for other characters—Flo would like you to collect some used oil cans scattered around the town, while Fillmore needs you to knock down some cacti. Pulling off these tasks earns you currency in the form of hubcaps, which you can trade in for virtual improvements to your car. You can also use the hubcaps to play mini-games added in the 1.1.1 update—automotive-themed variations on carnival midway-style games like skee-ball. And of course, there are races—Radiator Springs hosts a number of race tracks where you can match your skills against virtual opponents. The prize: More hubcaps, of course.
All said, it's a pretty fun world when it works—one where imaginative Cars fans can spend a good amount of time exploring and losing themselves in the story. But there are issues with the game above and beyond the crashes that I kept running into.
Driving through Radiator Springs means a lot of scrolling, and the app isn't always up to the task. On my original iPad, there were noticeable lags as the screen struggled to keep up with my forward momentum. If you happen to play with one of the physical AppMates toys, it can be a challenge to hold on to your miniature Cars figure in the prescribed manner—letting go, even for a second, can bring things to a grinding halt, which is a bit of bummer during races. Whether you use the AppMate toy or the digital stand-in, you may find yourself pushing your character away from the middle of the screen and in the direction you want to drive. That's a no-no for the AppMates software, and it can cause further performance problems.
I do like how the other characters and objects in the game interact with your AppMate figure (be it physical or virtual). Drive by other cars, and they'll squeal Lightning McQueen's name. Crash into a stack of tires, and they'll scatter. That's pretty fun. Less impressive is the app's inconsistent way of dealing with phyiscal properties—run into a building, and you'll drive right over it. That's probably all for the best, given the app's younger audience, but it still seems a bit sloppy.
I admire any app that tries to spark the imagination of its users. Cars 2 AppMates certainly makes the effort, though the execution isn't quite there, in my opinion. You can judge for yourself by downloading the free app and trying it out with the digital Lightning McQueen. That way, you can make sure the app's controls or performance issues aren't a problem before you commit to spending money on the AppMates toys.
[Philip Michaels is the editor of Macworld.com.]
At a Glance
Generic Company Place Holder Cars 2 AppMATes
Shop Tech Products at Amazon