Macworld Insider: Take our podcast poll
We're always looking for new ideas and features for our Macworld Insider program, and we'd like your help to decide if we're onto something good.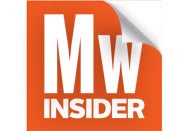 In addition to all the other great benefits of being an Insider, we'd like to know if you'd be interested in a special podcast done just for you. And if so, what would you want it to be? A regular summary of the hottest stories from our site, read by Macworld's editors? A roundup of the newest Mac Gems? A dramatic reading of Chris Breen's latest tweets?
So take our quick poll found below and let us know what you'd find most interesting, and we'll compile the results and take a look.

Amazon Shop buttons are programmatically attached to all reviews, regardless of products' final review scores. Our parent company, IDG, receives advertisement revenue for shopping activity generated by the links. Because the buttons are attached programmatically, they should not be interpreted as editorial endorsements.