Apple releases Trackpad Update for Retina MacBook Pro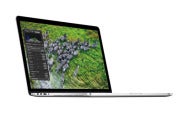 Apple has a special gift for you well-heeled early adopters who already brought home a brand new Retina display MacBook Pro. That gift? A MacBook Pro (Retina) Trackpad Update 1.0.
The Trackpad Update fixes an issue where the trackpad, in Apple's terms, "may not respond consistently to user input." Which would certainly put a damper on your clicking and swiping.
Not too surprisingly, Apple recommends the update for all MacBook Pro with Retina display notebooks. The update installs into the Applications/Utilities folder and launches automatically; your laptop must be plugged in to run the update.

Amazon Shop buttons are programmatically attached to all reviews, regardless of products' final review scores. Our parent company, IDG, receives advertisement revenue for shopping activity generated by the links. Because the buttons are attached programmatically, they should not be interpreted as editorial endorsements.