Mac Gems: Sticky Notifications posts reminders on your screen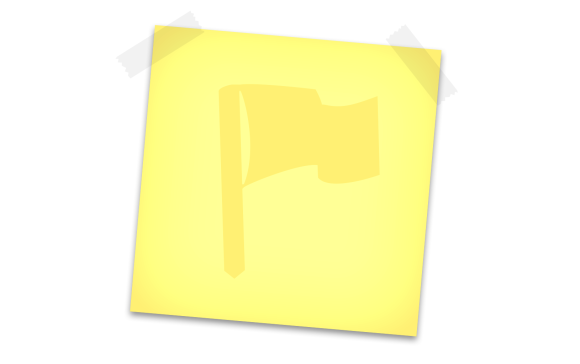 Mountain Lion's notifications system and Notification Center are great for letting applications get your attention and present you with information; if you're using Lion (OSX 10.7), the third-party utility Growl performs a similar function. But have you ever wished you could use these features to get your own attention—for example, to post a quick note or reminder without having to use a full-blown notes or calendar/reminder app, or to leave an onscreen note for yourself when you step away from your Mac?
That's the idea behind Sticky Notifications (Mac App Store link), a simple but useful utility that lets you take advantage of Notification Center (in OS X 10.8) or Growl (in 10.7 or 10.8) to post simple reminder notifications. (In Lion, you don't even need to have Growl installed—Sticky Notifications integrates the feature. If you have Growl installed in Mountain Lion, you can choose whether Sticky Notifications uses Growl or Notification Center.)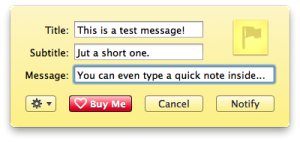 Launch Sticky Notifications, and a small note icon appears in your menu bar. Click that note, or press the app's customizable keyboard shortcut (I use Shift+Control+Option+Command+N, believe it or not), and a small window appears for you to type your reminder's title and, optionally, a subtitle and a message. Press Return (or click Notify) and your reminder appears onscreen immediately as either a Mountain Lion notification or a Growl notification. It stays there until you dismiss it by clicking it.
If your reminder contains URLs, Sticky Notifications can automatically open those links in the appropriate applications when you click the reminder. This feature makes Sticky Notifications a convenient way to remind yourself to check a website or to email a friend or colleague.
You can hide the app's systemwide menu if you'd rather just use the keyboard shortcut, and you can tweak Sticky Notifications's alerts using the standard Notification Center settings in System Preferences. For example, if you'd rather not have your reminders always visible on your desktop, you can switch them to Banner-style alerts so they show only within Notification Center. You can also opt to have your reminders produce an audible alert, and you can set how many recent Sticky Notifications alerts appear in Notification Center.