Review: Parallels Desktop 8 vs. VMware Fusion 5
At a Glance
VMware Fusion 5

Macworld Rating

Generic Company Place Holder Desktop 5 for Mac
Page 2 of 3
Parallels tries to work around this by putting each Start full-screen app in its own OS X desktop. In theory, this should allow a user to run multiple Start apps at the same time. In my testing, however, I found it didn't quite work. Sometimes I was unable to select those desktops; other times, I could select the desktop but not the app itself. (It must be said that Parallels' Windows 8 support is still under development, so some glitches aren't unexpected.)
In short, if you want to run Start apps, then—with either program—keep Windows in windowed mode, and you won't have any problem.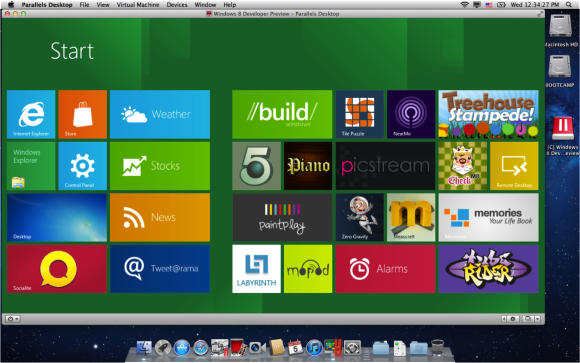 If you like to play any games that aren't available for the Mac, Fusion and Parallels' ability to accelerate 3D graphics in Windows is a wonderful thing. With these latest releases, Parallels has taken a clear lead on the gaming front. I tested quite a few games and generally saw better graphics and faster frame rates in Parallels than I did in Fusion.
For example, I installed the demo of ARMA 2, which includes an internal benchmarking tool. Using that tool, with the same detail and resolution settings in both Parallels and Fusion, Parallels generated 40 frames per second; Fusion could manage only 11. I got similar results when I tested each virtualization program's OpenGL speed using Cinebench.
I also tried the demo of Just Cause 2, which runs in Steam. Although it installed in both virtualization apps, I could run it only in Parallels, as the game requires DirectX 10. (Fusion supports only DirectX 9.0c.) Not only did it run, it ran quite well. While Parallels' support for DirectX 10 is marked as experimental, it worked fine in my testing.
Both Fusion and Parallels have added support for Retina displays when running Windows: You can run at pixel-doubled or full Retina resolutions. Both programs also now support USB 3; Parallels includes Bluetooth sharing.
Parallels lets you drag and drop email attachments directly to Outlook in Windows, and has a presentation wizard to help those using Windows to give presentations on projectors. You can now also drag and drop files and folders between Windows and OS X.
Virtualizing OS X and Linux
Want to test out some questionable piece of software? Use a virtual machine. Want to experiment with changing system settings? Use a virtual machine. Running a virtual copy of OS X can be handy for any number of reasons. But if you can accept some limitations, both virtualization apps run OS X very nicely.
Both of them make it simple to virtualize Mountain Lion, using either the installer file itself (Fusion and Parallels) or the Mountain Lion recovery partition (Parallels only). Unfortunately, both suffer from the same shortcomings: You'll find that an OS X virtual machine has much less power than the Windows equivalent. You can't accelerate 3D graphics. You can't drag and drop files between the virtual OS and the real OS. You can't run a multi-display full-screen virtual OS X.
Parallels does one thing when running OS X that Fusion does not: You can copy graphics to and from the virtual OS X installation (Fusion will handle only text on the clipboard).
If you have an urge to get your toes wet with Linux, both Parallels and Fusion make it easy to do so. Parallels makes it a touch easier, though, as you can install Ubuntu (not to mention Chrome, Windows 8 preview, and Android) directly from Parallels itself; Fusion requires you to find and download the disk images.
Fusion now supports OpenGL acceleration in Linux, matching what you can do in Parallels. I tried some simple OpenGL games in Ubuntu 12.0.4, and they ran reasonably well in both. (I was unable to find an Linux-friendly OpenGL benchmark that would run in both virtualization apps.)
Integration with Mountain Lion
Both programs let you run Windows apps in full-screen mode, but they do so in different ways. That's because there are actually two ways apps can run "full-screen." In the first, the program's window simply expands to fill up all of the visible screen space.
In the second, the app not only takes over the entire screen, but it also forms its own virtual desktop in Mission Control. (Apple's own apps go full-screen in this second sense.) If you look in Mission Control when you're running Fusion, you'll see that each Windows application appears on its own, just like any OS X application. With Parallels, all of those separate app windows are lumped together with the Parallels icon. (If you open the Command-Tab task-switcher, though, you'll see separate entries for each Windows app in both Fusion and Parallels.)
Fusion and Parallels use a mix of these two full-screen modes, depending on which OS you're virtualizing and the number of monitors you have connected to your Mac.
If you run an OS X virtual machine on a single screen in Parallels, it will fill that one screen but won't get a desktop of its own in Mission Control. But if you run Linux in the same mode, it will. Run a Windows virtual machine under those same conditions, and you can choose (via a toggle in the virtual machine's options screen) which mode it will use. Fusion makes the single-display scenario simple: You get OS X's true full-screen mode, complete with its own Mission Control desktop, for OS X, Linux, and Windows.
At a Glance
VMware Fusion 5

Macworld Rating

Generic Company Place Holder Desktop 5 for Mac
Shop Tech Products at Amazon