Hands on with Apple's Lightning to 30-pin Adapters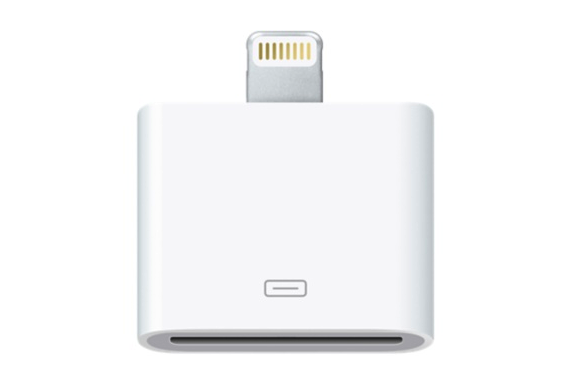 Similarly, it's not yet clear whether Apple's popular iPad Camera Connection Kit will work through these adapters—the kit works only with iPads, so we won't be able to test it until the first Lightning-connector iPad is released.
Practical considerations
Assuming your accessories are compatible, should you use one of Apple's adapters instead of waiting for actual Lightning-connector accessories? For any kind of accessory that uses a 30-pin-connector cable, the adapters are easy to use and simply extend the length of your existing cable—I have no qualms about recommending them.
Where I do have some concerns is with dock-cradle accessories, such as docking speakers, audio and charging docks, and car mounts. With many of these products, the 30-pin connector is already supporting the weight of your iPhone or iPod (unless the accessory uses Apple's Universal dock-cradle design with the appropriate insert, in which case the insert largely supports the player's body). With the standard Lightning adapter—not to mention the additional leverage from the taller body of the new iPhone and iPod touch—you're markedly increasing the torque on the 30-pin connector.
If you've got a SendStation Dock Extender sitting around, its Universal Dock-compatible back support is great for relieving some of this pressure; similarly, some speaker docks are d
500 - Server Error
Oops! We're not able to find the page you're looking for. Here are some options to help you get back on the right track:
If all else has failed, try emailing our friendly customer service staff.