Review: Marley's Chant speaker sounds portable and inexpensive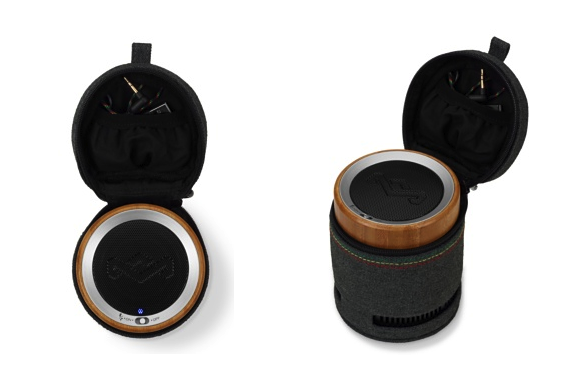 House of Marley Chant Bluetooth Portable Speaker

$100.00

Amazon Shop buttons are programmatically attached to all reviews, regardless of products' final review scores. Our parent company, IDG, receives advertisement revenue for shopping activity generated by the links. Because the buttons are attached programmatically, they should not be interpreted as editorial endorsements.
House of Marley's $100 Chant Bluetooth Portable Speaker is a Bluetooth speaker that you can carry inside its own custom canvas case. But its audio is disappointing for its price. (Marley also offers a $60 version of the speaker without Bluetooth support.)
You can use the Chant without removing it from its case by simply by unzipping the top; that exposes the speaker grill, with cutouts near the base of the case that expose the speaker's ports and buttons. The case also sports a carabiner clip to attach it to your bag. When you listen to the Chant in its case, you see just the top edge of the speaker's natural-bamboo exterior poking out. Or at least what looks like a natural-bamboo exterior: Remove the speaker from the case entirely, and you discover that this visible ring of bamboo is the only wood on the device—the rest of the body of the speaker is made of black, recycled plastic.
That body is shaped like a cylinder, 3.4 inches across and four inches tall, and weighs less than a pound. The actual speaker driver fires up from the top of the unit. Adjacent the black speaker grill, sitting on a narrow silver band that surrounds it, is an On/Off slider. The Chant enters pairing mode the first time you turn it on; to reenter pairing mode later, you just slide the On/Off switch to the left and hold it for several seconds. Around the Chant's base, you'll find a Mini-USB port for charging, an LED charging-status light (on when charging, off when fully charged), a microphone, and a 1/8-inch (3.5mm) auxiliary-audio input.
The Chant ships with an 18-inch Mini-USB cable, but you'll need to provide your own USB charger–or computer USB port—to charge the speaker. Marley says that a fully charged Chant should provide six hours of listening, which meshed with my experience.
How does the Chant sound? Well, it sounds okay for a $100 speaker. Which is another way of saying that it's not great compared to other speakers at this price. For $100, I want more audio performance than the Chant can offer.
That said, for its size, the Chant's volume performance is impressive: Dial your device's volume all the way up, and the Chant kicks out some serious loudness. However, I heard an omnipresent hum when the speaker was powered on and paired but not in use. And the audio lacks at the low end—despite the speaker's passive radiator for bass reinforcement—and higher frequencies sound soft and muddled. The overall sound skews tinny and muffled, and distortion becomes a problem at moderately loud.
I actually enjoyed the Chant a bit more when I turned the speaker on its side, so that its upward-facing speaker instead pointed at my head—the speaker just isn't powerful when firing straight up.
Bottom line
The Chant is a very portable speaker, but it sounds cheap. It can't compete acoustically at its $100 price point. If you don't mind a larger, heavier—but still rechargeable—speaker, Brookstone's $100 Big Blue Live (
) is far more enjoyable to listen to. If you crave portability, save some money and get JBL's $59 Micro Wireless, which offers much better wireless sound than the Chant in an even smaller package that's still rechargeable.
Updated at 4:14 p.m. ET on 4/2. The original version of this review conflated the $100 Bluetooth and $60 non-Bluetooth versions of the Chant. The updated review corrects that mistake.