Spreadsheet makers rejoice: Google Drive's mobile app has been revamped to let accountants and listmakers create and edit spreadsheets directly from their Apple and Android mobile devices.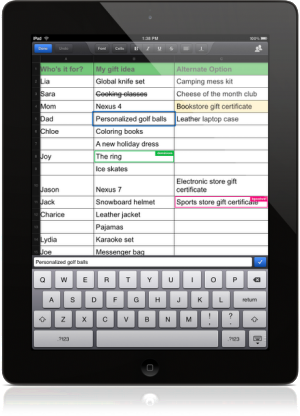 The upgraded version of Google Drive launched Wednesday in both the App Store for iOS and Google Play for Android users. While the app can sometimes differ on the two platforms, Wednesday's update was focused, in both cases, on creating a better spreadsheet experience for mobile users: Previously they could only view spreadsheets that had been created or edited in the desktop version of the Google Drive web app. Now they'll be able to switch fonts, resize columns, and perform other complicated editing tasks.
One other new feature that both versions of the app share: the ability to cut-and-paste richly formatted text within a document—meaning users won't accidentally lose links to webpages embedded in the text of documents.
There are some differences, however. Android users will notice two big features: One lets them create a shortcut from your device's homescreen directly to any file stored in Drive; the other allows the editing of text within tables in Drive documents.
For iPhone and iPad users, Drive's navigation now includes a new "uploads" section—similar to a feature in the Dropbox iOS app—that allows them to upload documents and pictures from the device itself. (Unlike Dropbox, though, you can only upload one photo at a time to your Google Drive.) And the app also features better integration with other document-driven apps, now appearing as an "Open In" feature in offerings like PDF reader GoodReader.
Google Play is free in both its iOS and Android versions. The first 5GB of storage are also free; after that, plans start at $2.50 a month for 25GB of storage.
This story, "Google Drive adds spreadsheet creation in mobile apps" was originally published by TechHive.