Buying Guide: Find the best headphones
If you're looking to get more audio enjoyment from your smartphone, tablet, media player, or computer, new headphones will do wonders. And a set of headphones is a must-have for those times you want to listen to your music without bothering those around you—or being bothered by them. But the variety of styles and options is wider than ever, and the opportunities for in-person testing are fewer. To help you find the perfect set of headphones, here's my yearly buying guide: what to look (and listen) for, descriptions of the different types, and specific recommendations, whether for yourself or for the lucky recipient of your generosity. (We cover speakers in our annual speakers buying guide.)
What to look for when shopping
Unlike speakers, headphones don't differ much in features—you plug them in, put the earpieces on (or in) your ears, and listen. (One exception, covered below, relates to remote/headset functionality.) For the most part, the main differences between models are type, comfort, and sound quality. I explain the different types of headphones later in this article, but here are a few things to keep in mind when shopping.
Specs and sound quality: You should generally ignore manufacturers' specifications—especially frequency-response numbers. No standard testing methodology exists for headphone frequency response, and many vendors exaggerate their specs for marketing reasons. Plus, even if those specs were accurate, they wouldn't tell you much about how a particular set of headphones actually sounds.
Instead of reading specs, use your ears. (If you can't audition a product in person, read reviews from a source you trust.) As with speakers, a quality set of headphones reproduces audio with good balance between treble (upper), midrange, and bass (lower) frequencies, producing full, rich sound while preserving detail.
However, because of their especially small drivers (speakers), headphones present a unique challenge when it comes to bass response: Unlike huge speaker woofers that you can not only hear, but feel, the drivers in most headphones can't reproduce the visceral impact of low bass—you may be able to hear the lowest frequencies, but you probably won't be able to feel them.
I point out this bass issue because some vendors attempt to address it by emphasizing certain bass and upper-bass frequencies to give their headphones more "kick." This helps the headphones stand out from other headphones in the store, and some people—especially those who use their headphones while exercising or for beat matching—really want that exaggerated impact. But such headphones often become fatiguing to listen to over time. If you're interested in accurate audio reproduction, be careful not to be wowed by emphasized bass. (The same goes for exaggerated treble detail.)
The best approach, when possible, is to audition a set of headphones for several hours—or, even better, several days—with a variety of music. If the headphones still sound great at the end, there's a good chance they'll satisfy you over the long run.
Headset functionality and inline control modules: Many current headphone models include, right on the cable, an inline module with a microphone and one or more remote-control buttons, much like the inline remote on Apple's iPhone earbuds. At minimum, this remote features a single multifunction button for controlling media playback; making, taking, and ending phone calls; and taking advantage of an iPhone or other smartphone's voice-control features. The module's microphone can be used to talk on the phone, make voice recordings, and give Siri or other voice-control commands. Models aimed at iOS users generally include a three-button remote with dedicated volume-up and -down buttons; this three-button remote also lets you control volume and media playback on recent Macs.
Fit/comfort: Unlike most consumer-electronics devices, you actually wear headphones. So how well a set of headphones fits you—your head, your ears, and even your ear canals—plays a significant role in your long-term satisfaction (or lack thereof). I include a few comfort-related tips below when describing the different types of headphones, but reading about a particular style is no substitute for actually giving a product a test drive (or a test run, as the case may be for fitness-oriented models).
Where to buy: Sadly, fewer and fewer brick-and-mortar retailers carry quality headphones, and few of those that do actually let you try the products in the store—especially if you're talking about in-ear-canal headphones. This makes it difficult to audition the sound and fit of headphones before you buy them. Your best option is to buy from a retailer with a generous return policy, so that if you're unhappy with the way a set of headphones fits or sounds once you get it home, you can return it. This goes for both local and online retailers—for example, Internet headphone retailer HeadRoom carries a huge assortment of great headphones and offers a 30-day, no-questions-asked return guarantee, even on in-ear-canal models.
Protect your ears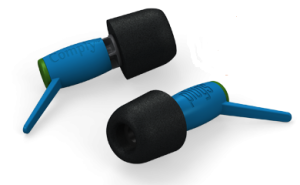 Before I get into the different types of headphones, a quick—but important—aside: Whichever set of headphones you choose, make sure you'll always be able to enjoy your favorite music by protecting your hearing. While some of the models recommended here block external noise, you won't always be wearing your headphones, so it's good to keep a set of earplugs handy—you never know when you'll find yourself in earshot of jackhammers, standing in a too-noisy crowd, or sitting in a movie theater with ear-splitting volume levels. Similarly, many music lovers attend concerts where the decibel level risks damage to your hearing.
Inexpensive foam earplugs are widely available, but these work by completely obstructing your ear canals, making it difficult to hear what's going on around you. Spend a bit more, and you can get special earplugs designed to reduce external sound to safe levels while still allowing you to hear clearly. Recommendations:
With that out of the way, read on for headphone types and recommendations.