Apps for a fun New Year's Eve
New Year's Eve is only a few short days away, but if you're still finalizing your plans, don't fret. With the right tools, planning a last-minute New Year's bash, finding a public event nearby, or even organizing transportation can be a breeze. Start the new year off without any stress—use these apps to ring in 2013 in style.
Evite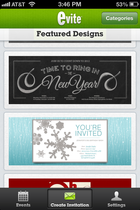 Planning a last-minute New Year's Eve soiree? Use Evite (free; iOS and Android) to manage your invitations and guest list. Evite is available as both a website and a free mobile app, which gives you the freedom to work back and forth between a browser and your device. Evite has several New Year's-themed invitation templates to choose from; once you pick an invite, setting up the rest of it is simple. Plus, the Evite app will send you push notifications for event updates, new RSVPs, or when your guests add comments to the invitation.
Eventbrite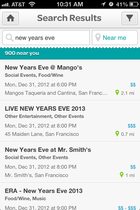 For those of you who don't want to plan a party, but are still stuck without something to do, there's Eventbrite (free; iOS and Android). This free event finder searches for local events based on your interests. You can search for events by keyword, location, date, or type. Events are grouped into categories such as music, food and wine, festivals, and networking. If tickets are required, you can purchase yours straight through the app and store it on your phone through Eventbrite's tickets tab or in Passbook. Although the app displays only listings that businesses, venues, and hosts create through Eventbrite, the service has a wide variety of events to choose from, so you won't be left wanting. It's a great alternative to scoping Yelp for local hotspots, because Eventbrite will tell you what specific New Year's Eve festivities are going on.
Polyvore
Now that you know your plans, you have to settle on an outfit—normally not a daunting task, but if you're going to a theme party, a costume ball, or a black-tie event, you might need a little extra help. Polyvore (free; iOS) is kind of like Pinterest, but with shopping integrated right in. You can search shops and save items that you're interested in, and then create collages to see what the items look like together. Or, you can let other Polyvore users do the hard part—just browse through other people's looks and collages for inspiration. Polyvore even has shopping links for your convenience.
Taxi Magic
For worry-free transportation, having a taxi app on hand is a smart move—especially since hailing a cab on New Year's Eve can be nearly impossible without planning ahead. Although you can find tons of apps specific to different cities, Taxi Magic (free; iOS and Android) is compatible with 50 major U.S. cities and their surrounding areas. Taxi Magic maintains partnerships with several major taxi fleets, and the app will locate available taxis in your area. You can order cab service, track the arrival of your taxi, and even pay your cab fare all through Taxi Magic.
YouTube Capture
Use YouTube Capture (free; iOS) to record video footage of your 2013 countdown and then share it with family and friends. Google recently released Capture and designed it to be a perfect companion to YouTube itself. Capture has built-in video preferences, such as Enhance Automatically and Stabilize, to help you produce good-looking videos on the fly. The app features a few simple editing tools as well, so you can spruce up your footage before posting it to YouTube, Facebook, or Twitter.
Reminders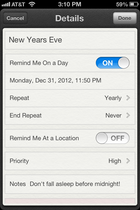 If staying awake until midnight could be challenging—or if you're concerned that your shenanigans will distract you from the time—remind yourself. Use your iPhone's preinstalled Reminders app to make sure you don't miss the countdown.
Times Square Official New Year's Eve Ball App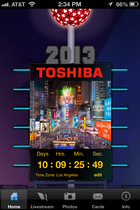 Only the bravest souls make the trek to Times Square on New Year's Eve to watch the ball drop. Luckily for the rest of us, we can watch the action live on TV while escaping the crowds and the chaos. If you won't be in front of a TV on New Year's Eve, download the Times Square Official New Year's Eve Ball App (free; iOS and Android). The app features an interactive countdown specific to your time zone, and lets you stream live Times Square footage straight through the app. (If you have small children and want to put them to bed before the clock strikes 12:00, you can set the app to an earlier time zone to speed things along.) When the clock finally approaches midnight, watch the virtual Waterford Crystal New Year's Eve Ball drop, with a flashy fireworks finale.
New Year Noise Maker
Skip the party-supply store this year and use New Year Noise Maker ($1; iOS) instead—it saves room in your pocket and is instantly ready for reuse next New Year's Eve. Noise Maker features obnoxious horn, blower, and twirler sounds, all accompanied by sparkly animations. No New Year's Eve would be complete without listening to "Auld Lang Syne," of course, and Noise Maker has that, too.