Expo Notes: QuikIO adds mobile-to-mobile media sharing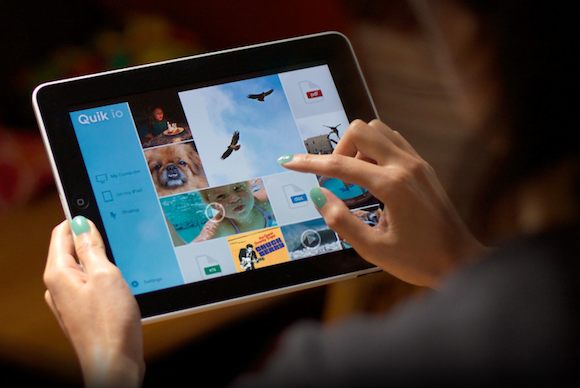 QuikIO, the iOS app that lets users access photos, videos, and music directly from their Macs and PCs, arrived at Macworld/iWorld this week with a new feature added to its offering—mobile-to-mobile file transfers.
Even before this week, QuikIO for iPhone and QuikIO HD for iPad let users directly access their computer-based media, regardless of its compatibility with native iOS media apps. (Alternative video formats can play on the app.) Users just had to install QuikIO's Mac or PC client on their computer, sign in using Google, Facebook, or email, then designate which directories are allowed to be accessed remotely.
Michael Chen, QuikIO's CEO, said, QuikIO's approach is easier for users than cloud-based services like Dropbox, which often require the user to upload the media to "the cloud" for it to be accessed from multiple devices: Instead, files are accessed directly. And QuikIO is much simpler—and burns less processing power—than other apps which give users total control of their desktop computers from a mobile device. (See the video below for a demonstration.)
With this week's update, QuikIO for iPhone users who have pulled, say, a dozen photos from their desktop can now relay those files directly to other designated QuikIO phone users—making it easier to share documents, photos, and other items with colleagues, family, and friends. "Now," Chen said, "you can access these files on the fly."