Review: Four full-size headphones for affordable audiophile luxury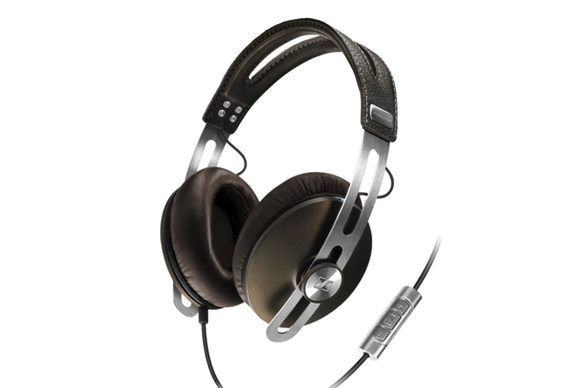 At a Glance
Sennheiser Momentum headphones

AKG K551 headphones

V-moda Crossfade M-100

Velodyne vTrue
One reason I love headphones is that they represent an affordable luxury. In contrast to the best wines, exotic super cars, Michelin-star-adorned restaurants, and tropical vacations, a set of world-class headphones that will entertain you, day-in and day-out, for years can be had for as little as $300 or so. In the world of headphones, nothing says luxury like a big ol' set of cans with pillowy ear pads that seal off the outside world and leave you intimately connected with your music.
I tested four sets of full-size, high-end headphones, ranging in price from $310 to $399. These models are all supra-aural (or over-ear), and incorporate closed (or sealed) designs, in which the earpieces have closed backs to reduce external noise (and to keep your music from bothering others). This style of headphones is appealing in many listening environments, but a closed design also presents acoustic challenges that can result in bloated, flabby bass and a closed-in sound. For the most part, the four models I tested avoid these issues.
The models here sit at or near the top of their respective product lines, offer an inline remote-and-microphone module for use with portable devices, and sport removable cables—a great feature to ensure that you can bask in that audio luxury for a long time to come. Most work well with the weak headphone jacks found on most computers, media players, smartphones, and tablets, though all benefit from better amplification. (See our headphones buying guide for more info on different types of headphones, along with recommended models.)
V-Moda Crossfade M-100
Last year, V-Moda launched the highly regarded Crossfade M-80, the first of the company's then-new M line of "modern audiophile" headphones. The M-80 is portable, impeccably constructed, and sounds great. It's an impressive all-around headphone.
V-Moda has since taken its full-size, over-ear Crossfade LP2 and given it the "M" treatment. During the development process, V-Moda enlisted "200 audiophiles, editors, artists, DJs and Grammy-winning musicians" (including the enthusiasts at Head-Fi) to provide feedback, yielding what the company calls the "world's first crowdsourced headphone", the $310 V-Moda Crossfade M-100 (4.5 of 5 rating).
The results are, once again, impressive. A surprisingly compact "exoskeleton" case—reminiscent of an alien egg, and continuing the extraterrestrial theme of the M-80's case—packs the M-100 into about the same volume as the case for the much-smaller M-80. (The M-100's case is shorter and narrower but thicker.) Inside, elastic bands hold a 3.5mm-to-1/4-inch adapter, two "V-Corks" (see below), and two cables: One is a standard headphone cable but with a built-in splitter for sharing audio with a friend, while the other has a single-button inline remote module and a separate inline microphone module. On the latter cable, the microphone is located at mouth level for optimal audio pickup, while the remote module is located lower down to make it easier to use. (Unfortunately, unlike with the M-80, you don't get an Apple-style, three-button remote.)
The M-100 continues V-Moda's streak of well-built and cleverly designed headphones. Two stout hinges let you fold the earpieces into the headband for travel. The M-100's cable can plug into either earpiece, so you can choose which side of your head the cable (and consequently the microphone and remote) hangs down; you place one of the aforementioned V-Cork plugs into the unused socket to prevent the cavity from affecting the earpiece's acoustics. (Yes, this produces a measurable difference in sound quality.) The headband adjusts in discrete but unmarked steps.
My review sample came in a matte-black design that possesses a Batman level of cool; glossy-black and white-and-silver versions are also available. The most succinct term for them is bad-ass. And though "built like a tank" sounds like a cliché, it aptly describes the M-100's sturdiness. Twist the headband 180 degrees, and the M-100 metaphorically shrugs and returns to its original shape. The cables are Kevlar-reinforced, and everything feels remarkably strong and solid. I can't imagine much, short of intentional violence with something from a toolbox, that would damage the M-100. (Should you manage this feat, V-Moda offers a two-year warranty against manufacturing defects, along with a 50-percent replacement discount in the event of user-inflicted damage or out-of-warranty failure.)
Like the M-80, the M-100 sports interchangeable "shield" faceplates on the earpieces, and you can order shields with optional text or logos (including custom logos). If you purchase the M-100 directly from V-Moda, you'll get an additional pair of shields, including customization, for free; or you can purchase shields later for $25 a set. Also available are a $30 boom mic, a $30 coiled cable, and a three-button remote/microphone cable (the last available only via V-Moda's customer service department).
I have only two minor complaints about these fantastically well-designed headphones. First, if you have a big head, the M-100's emphasis on portability makes it nearly an on-ear design—the earpieces are smaller than those on many full-size headphones. Second, like the M-80 (and most of the models covered here), the M-100 could use more headband padding. As a big-headed person, I found that the M-100 got a bit uncomfortable over long listening sessions, though listeners who are less cranially endowed will probably be fine.
Does the M-100's sonic performance match its outstanding design? Mostly. The M-100 sounds very good overall, with a low-end emphasis that doesn't overpower the midrange and treble, and with good detail in each region. (This is what V-Moda means by "modern audiophile": sound that's generally balanced and accurate, but has a bit of a controlled boost on the low end.) The M-100 delivers welcome, though incremental, improvements in clarity and detail over the M-80—but for the price I'd like to see further enhancements. The M-100 also adds a bit more bass boost than I consider ideal.
Those are small criticisms of what is, overall, an amazingly well-designed product. Though the M-100's performance doesn't quite match that of the Sennheiser Momentum and the AKG K551 (below), its design, build quality, style, and accessories allow it to compete favorably with them at its $310 price. And if its street price drops the way its sibling's price has (I've seen the M-80 for as little as $150), the M-100 will be a serious bargain.
AKG K551
AKG's K701 (currently available as the $350 Q701) was hailed upon its release as one of the best headphones in the world. The K701 and Q701 have since been surpassed by headphones with even higher prices, but both still sound great—the K701 has been my reference headphone for five years. The company has attempted to match the open-design K701's performance in a closed headphone with the $330 K551. In a nod to today's dominant listening sources, the K551 features a cable with an Apple-style, three-button inline remote and microphone module. (The K551's sibling, the $300 AKG K550, has a longer, thicker cable for home use, and omits the remote/mic module, but it is otherwise identical.) The K551 is available in black or white, each with silver accents. The only included accessory is a 3.5mm-to-1/4-inch adapter—this is the only model of the four discussed here that comes without a case or bag.
In my opinion, the K551's clean, modern design is a step up from the busier, space-age styling of the K701. The earpieces are large, black circles that evoke vinyl LPs. The stainless-steel headband adjusts in discrete, numbered increments; this approach isn't as convenient as the K701's elastic strap, which requires no manual adjustment, but the K551's design nevertheless permits a quick, consistent fit. The thin, black cable sports the aforementioned remote/microphone module, which is relatively small. I found the buttons difficult to distinguish by feel, and the thick plastic around the cable's 3.5mm plug may prevent it from fitting through the headphone-jack opening in some device cases. The K551's earpieces fold flat for travel, but the resulting size isn't very compact.
The angle of the earpieces adjusts both side-to-side and up and down. This is good, because I found that the K551 requires careful adjustment to achieve optimal bass response. Finding the right positioning was initially tricky (I angled the earpieces slightly up and toward the back of my ear), but I quickly learned to put them on easily and consistently. Thanks to this precision adjustment, the K551 creates a tight seal without clamping too strongly on your head, and I found the K551's earpads to be very comfortable.
Like its fit, the K551's sound is occasionally frustrating, but ultimately quite rewarding. Sonically, the K551 bears a strong resemblance to the K701, and that's mostly for the best—the K551 has the least "closed" sound I've heard from a sealed design. Like the K701, the K551 delivers a truly impressive amount of instrumental detail, and it sounds crystal clear, particularly in the midrange and treble frequencies. This detail and clarity are due in part to a somewhat bright balance, thanks to lower frequencies that are precise and clear, but not as visceral or powerful as with some other headphones in this class (a common complaint about the older K701, as well).
Bass aside, there's another caveat to consider: The K551's short cable and inline remote imply use with a portable device, but the K551's brightness exacerbates the faults of portable players, with their grainy audio output and low power. As a result, with a poor source, you'll hear a bit of high-frequency harshness in some recordings. To get your money's worth, you need to give the K551 some special treatment. Get a good fit, and use the K551 with a headphone amplifier, a nice digital-to-analog converter (DAC), and some lossless-encoded files, and it'll sing.
All this is to say that in the right setting, the K551 will amaze you by revealing musical nuance and detail that most other headphones—including the other models here—fail to capture: It will let you hear new and wonderful things in your music. If your primary purpose is portable listening, however, be aware that those models are a better match for portable sources—and the M-100 and Momentum are easier to transport, too.
Sennheiser Momentum
Speaking of world-class headphones, Sennheiser has a few of its own; though like the K551, most of them aren't portability-oriented. The $350 Momentum (5 of 5 rating) aims to change that. Like Skullcandy's Aviator, the Momentum looks as though it would nicely complement a bomber jacket and aviator sunglasses. But unlike the Aviator, the Momentum also has a classiness almost on a par with the "scotch and cigars" executive look of Bowers & Wilkins's P5 Mobile Hi-Fi Headphones (4.5 of 5 rating).
The Momentum's look starts with a leather-wrapped, stainless-steel headband, which, like those on the K551 and M-100, could use additional padding. At either end, a central channel in the headband provides an attachment point for the earpiece. The earpieces slide (remarkably smoothly) along that channel to adjust the fit. Like those of the M-100, the Momentum's earpieces are small enough that they're effectively supra-aural on users with larger ears. The earpieces are a matte plastic that matches the color of the leather used for the headband and earpads. The color choices are brown (my favorite) or black; the latter adds red trim that gives the Momentum a little of the M-100's edginess.
Sennheiser supplies two cables: One includes an Apple-style, three-button inline remote/microphone module, along with a hinged plug that can be configured as a straight or L-shaped plug; the other has no remote/mic module and a lower-profile plug. Each cable attaches to the left earpiece using a clever locking connector. The remote/mic module is fairly large and has big buttons, but they're almost flush with the remote's surface, which makes them more difficult to press than they could be. Whichever cord you don't use fits in a small nook of the included semihard case, where it shares space with a 3.5mm-to-1/4-inch adapter. That case is well-designed and protective, but significantly larger than the M-100's case, since the Momentum does not fold for travel.
The Momentum sounds great. It doesn't deliver the extraordinary detail and clarity of AKG's K551, nor do you get the exceptionally smooth, natural sound of Sennheiser's well-regarded (and until recently, flagship) HD 650. Instead, the Momentum's audio signature has aspects of both models, along with bass response that will keep most listeners quite happy (though it's more prominent than I consider strictly necessary). And though its presentation of detail doesn't quite achieve the world-class level of the K551, the Momentum beats its competition in the high-end, portable-style market (which includes the aforementioned B&W P5), sounding every bit as smooth and luxurious but with more clarity, more detail, and better balance. And it performs nearly as well with weak portable devices as with fancier sources.
The Momentum's performance is so good that I recommend it to almost anyone who can afford to pony up the $350. The two small exceptions are audiophiles who want more-neutral bass output, and those who demand the transcendent experience of world-class headphones paired with a dedicated headphone amp and DAC—and are willing to sacrifice visual appeal and portability to get it. Everyone else should be very happy with the beautiful, convenient, and lovely sounding Momentum.
Velodyne vTrue
Until recently, Velodyne focused exclusively on its impressive subwoofers. The company made its debut in the headphone world with the vPulse (4.5 of 5 rating), a set of canalbud-style in-ear headphones. When I reviewed the vPulse, I was impressed by its ability to produce huge bass without overwhelming the midrange and treble frequencies. The company brings that same "big bass without compromises" approach to the $400 Velodyne vTrue Studio Headphones (4.5 of 5 rating). The company has a number of other full-size models, including Bluetooth wireless models, available now or on the way, but the vTrue is the company's flagship offering.
The vTrue's earpieces are constructed from forged aluminum, and they're gorgeous—but also quite heavy. Thankfully, the vTrue's ample earpads and above-average headband padding, both finished in a lovely brown leather, decrease the impact of that weight. The vTrue's cables and earpiece grilles incorporate a bold blue cloth, and the combination of aluminum, brown leather, and blue fabric makes for a distinctive look: The vTrue stands out even among the other very attractive models here, evoking the look of an ultra-high-end luxury car.
Velodyne includes two cables: one with an Apple-style, three-button remote/mic module, and one without. Both versions terminate in a 3.5mm, L-shaped connector; you also get a 3.5mm-to-1/4-inch adapter. Both cables use a split design, plugging into both earpieces—a one-sided design would have been more convenient. That inline remote is a step backward from the one on the vPulse, as the vTrue's buttons are small and almost flush with the surface of the remote, making them difficult to press. The package also includes a small drawstring carrying bag, but getting the headphones in and out of it can be difficult.
In my testing, the headband's size-adjustment mechanism felt a little loose. The earpieces are sufficiently heavy that they can accidentally slide down, giving you a larger fit. On the other hand, the vTrue's relatively strong clamping pressure made the headphones feel a bit tight over longer listening sessions, though this may not be an issue for listeners with average-size heads. Overall, the vTrue's ergonomics are quite good, considering the weight involved.
The vTrue's audio balance is similar to the vPulse's: Bass is aggressive, but clean, detailed, and mostly well-behaved. Despite being the star of the show, it generally doesn't dominate midrange and treble frequencies. Performance in those parts of the spectrum is good, though not at the same level as with V-Moda's M-100. For example, the vTrue's sound gets a little crowded on certain recordings, where the M-100 clearly separates individual sounds and preserves instrumental textures. High frequencies are also a little more restrained than I would like.
But these are minor criticisms relative to the vPulse's overall performance, which is ultimately very satisfying. And the vTrue, like the vPulse, offers a propulsive sound that makes music exciting and vibrant. (It's worth noting that, as with many higher-end headphones, sound quality on the vTrue suffers somewhat when the headphones are used with the weak headphone jacks on portable devices. Specifically, bass is looser and mids and highs sound more distant than they do when you use the vTrue with higher-end sources.)
Given that the vTrue is the most expensive model here, I'd like better midrange and high-frequency performance, but the vTrue does bass like no other headphones I've used, while still managing to be very good across those other frequencies—all in a striking, beautiful design.
Mic check
It's a sign of the times that higher-end headphones like the ones reviewed here now include an inline remote and microphone: Even people who demand great sound can appreciate the utility and practicality of such features. However, I've found that inline microphones are often an afterthought, offering mediocre performance at best.
I tested the microphones included on these models to determine whether they're amenable to the task of taking phone calls and handling voice-memo duties. I used Apple's EarPods, which has a surprisingly good inline mic, as a benchmark. I found that all four models' microphones were quieter than the EarPods's mic, and though they varied in clarity, none matched the EarPod mic's full-bodied, natural sound. The Momentum's microphone sounded the best, followed by K551's. The vTrue's mic sounds a bit muffled, the M-100's microphone even more so. Still, all are acceptable for their purpose.
Bottom line
The four headphone models I tested offer great sound and have the potential to make your ears very happy. If you want something that can take abuse while sounding and looking great, and that was designed with obsessive, Apple-like attention to detail, you'll find a lot to love about V-Moda's $310 M-100. For a little more coin, AKG's $330 K551 offers spectacular sound and avoids most of the sonic disadvantages of closed designs, but it's a little light on bass and it needs proper fit and equipment to sound its best.
A little more money gets you Sennheiser's $350 Momentum, which offers a great combination of design, portability, and balanced sound that most people will find very rewarding, though it doesn't match the K551's peak performance in handling audio detail. Finally, basshead audiophiles—yes, they exist—will love Velodyne's $399 vTrue. It's expensive, and it can't match the sonic detail of the K551, nor does it offer the balance and portability of the Momentum. But the vTrue succeeds at the difficult task of presenting truly huge bass without severely compromising midrange and high frequency performance, and it looks very good doing so.
At a Glance
Sennheiser Momentum headphones

AKG K551 headphones

V-moda Crossfade M-100

Velodyne vTrue