Review: Four full-size headphones for affordable audiophile luxury
At a Glance
Sennheiser Momentum headphones

AKG K551 headphones

V-Moda Crossfade M-100

Velodyne vTrue
Page 2 of 2
Sennheiser Momentum
Speaking of world-class headphones, Sennheiser has a few of its own; though like the K551, most of them aren't portability-oriented. The $350 Momentum (5 of 5 rating) aims to change that. Like Skullcandy's Aviator, the Momentum looks as though it would nicely complement a bomber jacket and aviator sunglasses. But unlike the Aviator, the Momentum also has a classiness almost on a par with the "scotch and cigars" executive look of Bowers & Wilkins's P5 Mobile Hi-Fi Headphones (4.5 of 5 rating).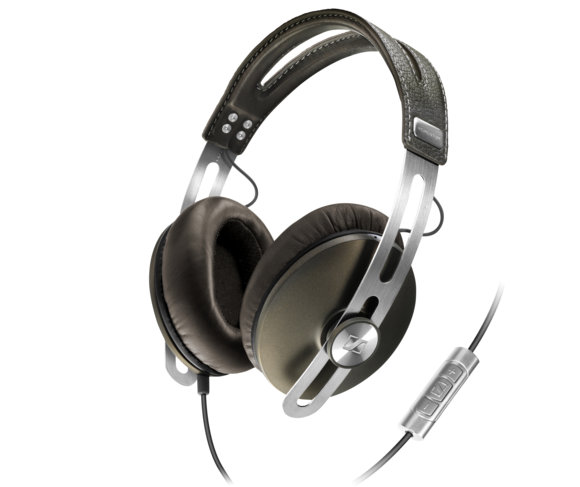 The Momentum's look starts with a leather-wrapped, stainless-steel headband, which, like those on the K551 and M-100, could use additional padding. At either end, a central channel in the headband provides an attachment point for the earpiece. The earpieces slide (remarkably smoothly) along that channel to adjust the fit. Like those of the M-100, the Momentum's earpieces are small enough that they're effectively supra-aural on users with larger ears. The earpieces are a matte plastic that matches the color of the leather used for the headband and earpads. The color choices are brown (my favorite) or black; the latter adds red trim that gives the Momentum a little of the M-100's edginess.
Sennheiser supplies two cables: One includes an Apple-style, three-button inline remote/microphone module, along with a hinged plug that can be configured as a straight or L-shaped plug; the other has no remote/mic module and a lower-profile plug. Each cable attaches to the left earpiece using a clever locking connector. The remote/mic module is fairly large and has big buttons, but they're almost flush with the remote's surface, which makes them more difficult to press than they could be. Whichever cord you don't use fits in a small nook of the included semihard case, where it shares space with a 3.5mm-to-1/4-inch adapter. That case is well-designed and protective, but significantly larger than the M-100's case, since the Momentum does not fold for travel.
The Momentum sounds great. It doesn't deliver the extraordinary detail and clarity of AKG's K551, nor do you get the exceptionally smooth, natural sound of Sennheiser's well-regarded (and until recently, flagship) HD 650. Instead, the Momentum's audio signature has aspects of both models, along with bass response that will keep most listeners quite happy (though it's more prominent than I consider strictly necessary). And though its presentation of detail doesn't quite achieve the world-class level of the K551, the Momentum beats its competition in the high-end, portable-style market (which includes the aforementioned B&W P5), sounding every bit as smooth and luxurious but with more clarity, more detail, and better balance. And it performs nearly as well with weak portable devices as with fancier sources.
The Momentum's performance is so good that I recommend it to almost anyone who can afford to pony up the $350. The two small exceptions are audiophiles who want more-neutral bass output, and those who demand the transcendent experience of world-class headphones paired with a dedicated headphone amp and DAC—and are willing to sacrifice visual appeal and portability to get it. Everyone else should be very happy with the beautiful, convenient, and lovely sounding Momentum.
Velodyne vTrue
Until recently, Velodyne focused exclusively on its impressive subwoofers. The company made its debut in the headphone world with the vPulse (4.5 of 5 rating), a set of canalbud-style in-ear headphones. When I reviewed the vPulse, I was impressed by its ability to produce huge bass without overwhelming the midrange and treble frequencies. The company brings that same "big bass without compromises" approach to the $400 Velodyne vTrue Studio Headphones (4.5 of 5 rating). The company has a number of other full-size models, including Bluetooth wireless models, available now or on the way, but the vTrue is the company's flagship offering.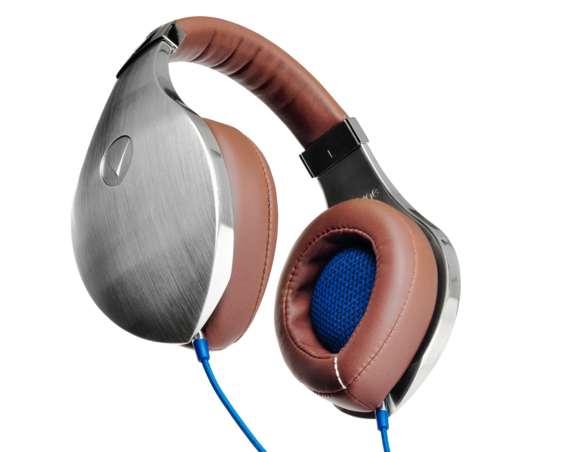 The vTrue's earpieces are constructed from forged aluminum, and they're gorgeous—but also quite heavy. Thankfully, the vTrue's ample earpads and above-average headband padding, both finished in a lovely brown leather, decrease the impact of that weight. The vTrue's cables and earpiece grilles incorporate a bold blue cloth, and the combination of aluminum, brown leather, and blue fabric makes for a distinctive look: The vTrue stands out even among the other very attractive models here, evoking the look of an ultra-high-end luxury car.
Velodyne includes two cables: one with an Apple-style, three-button remote/mic module, and one without. Both versions terminate in a 3.5mm, L-shaped connector; you also get a 3.5mm-to-1/4-inch adapter. Both cables use a split design, plugging into both earpieces—a one-sided design would have been more convenient. That inline remote is a step backward from the one on the vPulse, as the vTrue's buttons are small and almost flush with the surface of the remote, making them difficult to press. The package also includes a small drawstring carrying bag, but getting the headphones in and out of it can be difficult.
In my testing, the headband's size-adjustment mechanism felt a little loose. The earpieces are sufficiently heavy that they can accidentally slide down, giving you a larger fit. On the other hand, the vTrue's relatively strong clamping pressure made the headphones feel a bit tight over longer listening sessions, though this may not be an issue for listeners with average-size heads. Overall, the vTrue's ergonomics are quite good, considering the weight involved.
The vTrue's audio balance is similar to the vPulse's: Bass is aggressive, but clean, detailed, and mostly well-behaved. Despite being the star of the show, it generally doesn't dominate midrange and treble frequencies. Performance in those parts of the spectrum is good, though not at the same level as with V-Moda's M-100. For example, the vTrue's sound gets a little crowded on certain recordings, where the M-100 clearly separates individual sounds and preserves instrumental textures. High frequencies are also a little more restrained than I would like.
But these are minor criticisms relative to the vPulse's overall performance, which is ultimately very satisfying. And the vTrue, like the vPulse, offers a propulsive sound that makes music exciting and vibrant. (It's worth noting that, as with many higher-end headphones, sound quality on the vTrue suffers somewhat when the headphones are used with the weak headphone jacks on portable devices. Specifically, bass is looser and mids and highs sound more distant than they do when you use the vTrue with higher-end sources.)
Given that the vTrue is the most expensive model here, I'd like better midrange and high-frequency performance, but the vTrue does bass like no other headphones I've used, while still managing to be very good across those other frequencies—all in a striking, beautiful design.
Mic check
It's a sign of the times that higher-end headphones like the ones reviewed here now include an inline remote and microphone: Even people who demand great sound can appreciate the utility and practicality of such features. However, I've found that inline microphones are often an afterthought, offering mediocre performance at best.
I tested the microphones included on these models to determine whether they're amenable to the task of taking phone calls and handling voice-memo duties. I used Apple's EarPods, which has a surprisingly good inline mic, as a benchmark. I found that all four models' microphones were quieter than the EarPods's mic, and though they varied in clarity, none matched the EarPod mic's full-bodied, natural sound. The Momentum's microphone sounded the best, followed by K551's. The vTrue's mic sounds a bit muffled, the M-100's microphone even more so. Still, all are acceptable for their purpose.
Bottom line
The four headphone models I tested offer great sound and have the potential to make your ears very happy. If you want something that can take abuse while sounding and looking great, and that was designed with obsessive, Apple-like attention to detail, you'll find a lot to love about V-Moda's $310 M-100. For a little more coin, AKG's $330 K551 offers spectacular sound and avoids most of the sonic disadvantages of closed designs, but it's a little light on bass and it needs proper fit and equipment to sound its best.
A little more money gets you Sennheiser's $350 Momentum, which offers a great combination of design, portability, and balanced sound that most people will find very rewarding, though it doesn't match the K551's peak performance in handling audio detail. Finally, basshead audiophiles—yes, they exist—will love Velodyne's $399 vTrue. It's expensive, and it can't match the sonic detail of the K551, nor does it offer the balance and portability of the Momentum. But the vTrue succeeds at the difficult task of presenting truly huge bass without severely compromising midrange and high frequency performance, and it looks very good doing so.
This story, "Review: Four full-size headphones for affordable audiophile luxury" was originally published by TechHive.
At a Glance
Sennheiser Momentum headphones

AKG K551 headphones

V-Moda Crossfade M-100

Velodyne vTrue
Shop Tech Products at Amazon