How to change Siri's voice in iOS 7
Siri, Apple's sometimes-snarky virtual assistant, gets a new voice in iOS 7—a couple new voices, actually. Siri still has a smooth female voice by default, but you can swap that out for a male voice if you prefer.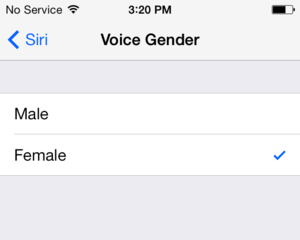 To change Siri's voice, open the Settings app, then go to General settings. From there, tap Siri, then tap Voice Gender: Here you'll be able to choose from a female voice—one that sounds a little less robotic than the one in iOS 5 and 6—or a male voice, and have Siri take on a new persona.
Unfortunately, you're limited to only one male and one female voice, so you can't change Siri's voice with reckless abandon, or load in lots of new voices as you can on some auto GPS systems. Also, if you have Siri set to a language other than US or Canadian English, you may still only have one voice to choose from—sorry, UK iPhone users. Still, some choice is better than none.
10 iOS 7 tips, tricks, and timesavers

Amazon Shop buttons are programmatically attached to all reviews, regardless of products' final review scores. Our parent company, IDG, receives advertisement revenue for shopping activity generated by the links. Because the buttons are attached programmatically, they should not be interpreted as editorial endorsements.