How to rip, edit, and customize Blu-ray videos like a pro
[ This sponsored article was written by IDG Creative Lab, a partner of Macworld, and not by Macworld's editorial staff. ]
Blu-ray movies deliver an amazing viewing experience, with stunning image quality, advanced audio features, and awesome special features that let you control playback and access additional content while you're watching your movie. Unfortunately, Macs don't ship with Blu-ray support, and mobile devices like the iPad and iPhone are quickly rendering disc media obsolete. The good news is that turning your favorite Blu-ray movies into portable digital files has never been easier.
Before you can rip Blu-ray discs on your Mac, you'll need a Blu-ray drive. You can pick up any number of external Blu-ray drives that hook via USB for less than $50. If you'd like to be able to create your own Blu-ray video discs, look for one that includes Blu-ray burner functionality. These typically cost upwards of $100, and not all Blu-ray drives can burn in Blu-ray format, so be sure to double-check the specs before buying.
(If you just want to watch Blu-ray movies on your Mac, read "Turn your Mac into the ultimate Blu-ray player.")
With a Blu-ray drive connected to your Mac, you'll need a good Blu-ray ripping app to convert your movies into digital files. Aiseesoft Blu-ray Ripper for Mac gives you all the tools you need to produce digital copies from any Blu-ray disc. It can rip both Blu-ray and standard DVD discs, make edits to the digital files, and save them in a host of pre-configured formats for nearly any type of device. The Platinum edition adds the ability to convert your movies to 3D formats for playback on your 3D TV.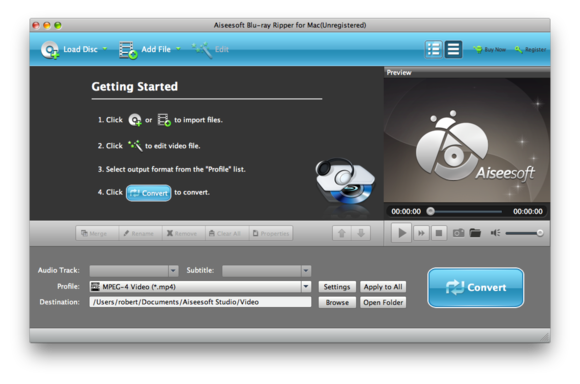 To get started, insert a Blu-ray disc into your drive, and launch Blu-ray Ripper for Mac. Click Load Disc in the Getting Started Screen, and then select your Blu-ray disc from the Browse menu that pops up.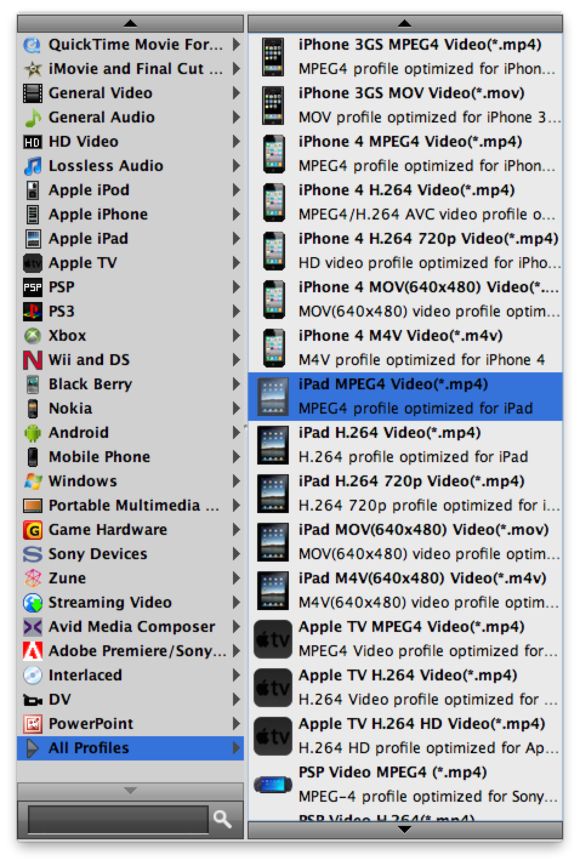 Before you start ripping, you'll need to choose the best output profile for your needs. Usually, it's best to select a profile that matches the devices you intend to play on. Blu-ray Ripper for Mac comes with profiles for all kinds of devices, from specific iPad and iPod models to the Apple TV and a host of different smartphones. Click the Profile dropdown menu browse through the available options and choose the profile that matches your device. If time and hard drive space are no object and you just want the highest-quality playback possible, select H.264 MPEG-4 from the HD Video profiles. This will give you awesome video and audio quality.
Once you've selected your desired profile, click Convert to begin ripping the video. Depending on the output profile you've selected and the length of the movie, it can take several hours to finish ripping. Once it's done, you can copy the file to your desired device or drag it to iTunes for streaming.
Head over to Aiseesoft now to start ripping Blu-rays like a pro. They're even offering an exclusive 40% discount for MacWorld readers for a limited time.