Staff Picks: FlightTrack 5 is a first-class flight tracking app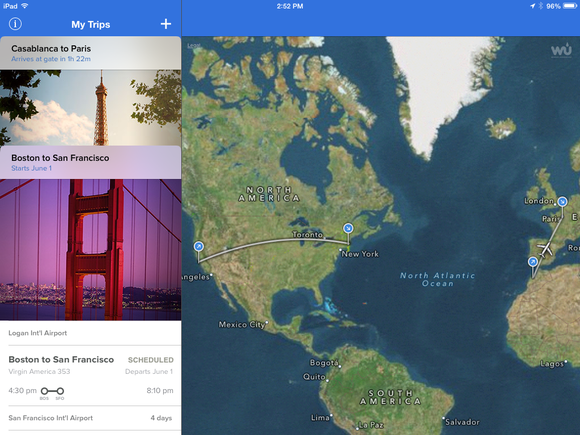 As long as there have been airplane flights, there have been people on the ground wondering when those flights will arrive or depart. Heck, Orville and Wilbur's friends probably wondered what time they'd land so that everyone could all go out to dinner. Little has changed in the smartphone age, but our tools have gotten better: The $5 FlightTrack 5, by Mobiata, is among the best apps for keeping tabs on plane trips.
FlightTrack's been around for several years, but its latest redesign appeared last November, bringing a revamped interface in line with iOS 7's aesthetics; just this week, the app received an update that finally added a native iPad interface.
Though becoming a universal app is a big move in FlightTrack's favor, there was plenty to like even prior to that. I love FlightTrack's interface, which lets you store each flight you're tracking as a little card, displaying the trip's route overlaid on a satellite map. Tap on that map and the app gives you even more info, including the flight's elapsed and remaining time, as well as its speed and altitude—plus, if the flight's currently in progress, it even animates a little plane icon in real time (the shadow of the plane on the ground far below is a nice touch). Color coding is used to good effect as well, with late flights appearing with orange highlights—as opposed to the app's usually soothing blue tints—and early flights getting a green tone.
FlightTrack also employs gestures well: Swipe up on the flight info card to get more information about the plane itself, including a seat map when available. If you instead swipe left or right on the card, you'll get information about the plane's departure and arrival cities instead, complete with weather forecast, local time, and whether or not the airport is experiencing delays. You can even tap on that card to get access to a terminal map and a board of current flights scheduled for that airport.