Outlook may have been late to the mobile email game, but Microsoft is pouring on the updates to try and win you over.
The latest changes, announced on the Microsoft Office blog, brings the People section up to speed, transforming it into a proper address book. It now displays a unified view of everyone in your address book, where previously it only showed your "top contacts."
There are now actions tied to each contact. You can email them, start a phone call, map your way to their location, or see your previous correspondence.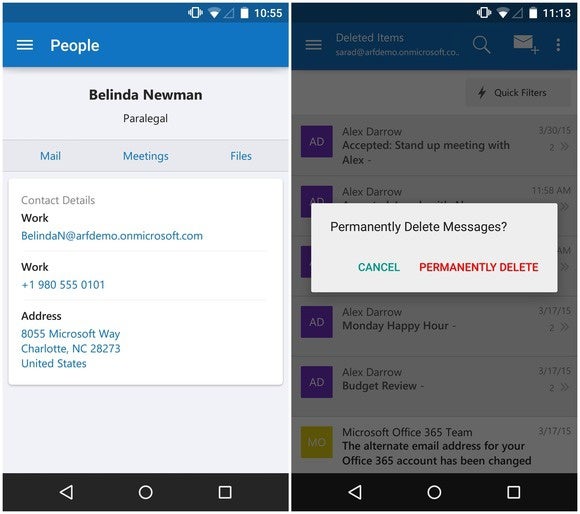 Citing the "unique controls provided by Android," the version for Google's mobile OS will also pull in the contacts stored on your device, instead of only those tied to your email accounts.
It's now easier to find a contact when starting an email. A new search capability will auto-suggest among your contact directory using Global Address List search, especially useful if you're in a large organization using an Exchange server.
When you search through your email, your search term is highlighted throughout the results, just as it would be when searching through a Word document. You can also "select all" to perform bulk operations on messages inside a folder. These additions are iOS-only for now, though Microsoft says it's bringing them to Android.
Additionally, the embedded calendar now transforms to a three-day view when turning your device to landscape mode. Other small updates include the ability to permanently delete messages and undo any bulk actions.
The story behind the story: Microsoft's new Office strategy is to make its core apps available across all major platforms. Instead of building an email app from scratch, Microsoft bought the popular app Accompli and rebranded it as Outlook. Since then it's been cranking out the updates, pushing Outlook as your all-in-one email and calendar solution.
This story, "Outlook for Android, iOS updated with smarter address book and calendar tweaks" was originally published by Greenbot.