Jim Elkins is in a pickle. Since updating to Yosemite 10.10.3, he can't save files via Save As.
I get the message: "The document could not be exported as 'name.' You do not have permission."
This is very likely a problem that I've heard a lot about lately and never previously, which might indicate that a Yosemite update tripped a permission lever unintentionally for some people.
While there's a Terminal-based process to work through this, I'm reluctant to ask people who don't routinely use command-line instructions to muck about with them when file permissions are involved. Instead, you have to restart your Mac, but it's quite straightforard.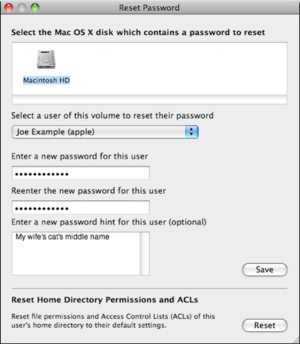 Select  > Restart.

After the Mac shuts down and makes the startup chime, immediately hold down Command-R to boot into Recovery mode.

After the Recovery screen appears, select the menu item Utilties > Terminal.

Type resetpassword and press Return. Don't worry: this won't reset your password.

A dialog appears from which you can select your startup volume if it's not selected by default.

Pick your username from the Select the User Account dropdown menu.

In the lower-right corner of the screen, click Reset next to the Reset Home Directory Permissions and ACLs area.

Now choose File > Quit, and then in the main Recovery window, choose  > Restart.
When your system comes back up with your OS X installation, this problem should be resolved.
Ask Mac 911
We're always looking for problems to solve! Email yours to mac911@macworld.com including screen captures as appropriate. Mac 911 cannot reply to email with troubleshooting advice nor can we publish answers to every question.