watchOS 2.2 now available, supports multiple Apple Watches on a single iPhone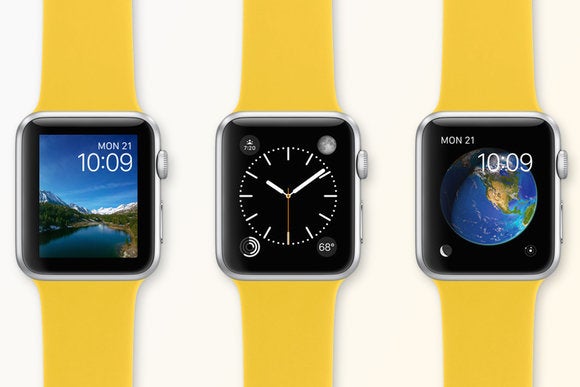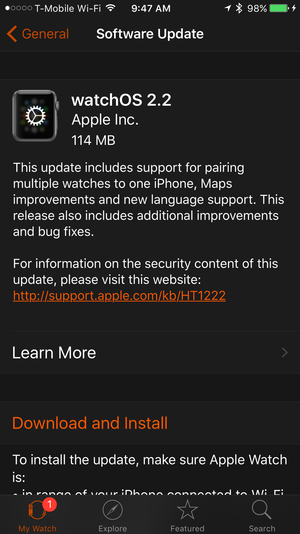 Apple on Monday released watchOS 2.2, an update to the operating system for Apple Watch. The update includes new features and bug fixes.
Here's what the release notes say is in the update:
Adds support for pairing multiple Apple Watches to one iPhone
Adds Nearby in Maps to browse for places around you by category, including Food, Shopping, and more
Adds support for system language in Catalan, Croatian, Slovak, Romanian, and Ukrainian
Adds support for dictation in Catalan, Croatian, Slovak, Romanian, Ukrainian, and English (Saudi Arabia, UAE, and Indonesia)
Adds support for Siri in Malay, Finnish, and Hebrew
Increases frequency of background heart rate measurements when you are stationary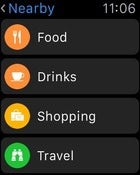 Apple has a document detailing watchOS 2.2's security content.
Installation requires iOS 9.3 on your iPhone. When installing a watch update, your watch has to be in range of your iPhone, connected to its charger, and charged to 50 percent of battery life.
Once your hardware is all set up, open the Watch app on your iPhone. Tap General > Software Update. The update is 114MB and will take several minutes.

Amazon Shop buttons are programmatically attached to all reviews, regardless of products' final review scores. Our parent company, IDG, receives advertisement revenue for shopping activity generated by the links. Because the buttons are attached programmatically, they should not be interpreted as editorial endorsements.