TechHive: Sketching stylus shoot-out for the iPad
techhive.com
Which stylus should you buy for drawing in Paper? In Draw Something? What about other drawing-related apps? Serenity Caldwell looks at how styluses compare when it comes to sketching.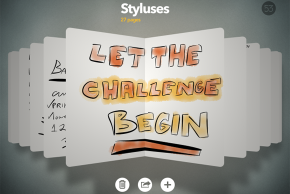 Stylus Shoot-Out: Finding the best sketching stylus
Serenity Caldwell has tested a lot of styluses. (And we mean a lot.) Now she's pitting them head-to-head in a series of challenges. In the latest installment, she looks at which stylus is the best for sketching and drafting.
The Hand Glider is a perfect no-frills solution for palm rejection on the iPad
Perhaps no tool will make artists feel more at home on the iPad than the Hand Glider, a lightweight sleeve for your wrist and pinky that prevents your skin from triggering multitouch gestures or wayward marks while using a stylus. By outward appearance alone, the glove looks a little silly, but its function far outweighs its design quirks.
The Jot Flip stylus/pen combo gets the pen right
The latest addition to Adonit's family of disc styluses for iOS devices, the Jot Flip seeks to fill the stylus/pen niche treasured by those still chained to paper and pen. And while it shares a few stylus flaws with its Adonit siblings, it gets the pen right.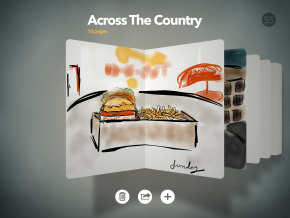 Paper, created by design studio Fiftythree, may be one of my favorite drawing apps ever to grace the iPad. But sadly the app as-is has a few major flaws that make it exceedingly frustrating to work with.
Up close with Mountain Lion: iCloud
While iCloud's been around for a while, it's never been so deeply integrated into OS X as it is in Mountain Lion. Serenity Caldwell takes a look at how that integration works.
Remains of the Day: Game closet
Apple toys around with a new way to check the status of your online orders, a U.S. senator wants the DOJ to stop playing into Amazon's hands, and AT&T avoids tapping into the FaceTime-pricing game--for now.
WaterField's CitySlicker MacBook Case is slick as can be
WaterField Designs's latest offering, the CitySlicker MacBook case, is a hybrid of a laptop sleeve and lightweight shoulder bag. While the bag's snap-closure mechanisms aren't ideal, it's otherwise a near-perfect choice for MacBook users who want something slim and professional-looking with just the hint of a rugged side.
Remains of the Day: Promises, promises
Mozilla makes promises about its phone OS, the App Store promises to add a Food & Drink category, and there are new iCloud.com features promised with the release of iOS 6. The remainders for Tuesday, July 3, 2012 are looking forward to a promising day off tomorrow.