Don't-Miss Creative Stories
Remains of the Day: Fauxbulous
Congratulations on your e-book settlement--now just don't spend all of your refund in one online bookstore. Elsewhere, Tim Cook and Larry Page have a tete-a-tete and one fellow makes the most convincing fake Apple Store you've ever seen.
This iPad photo book creation tool offers some cool features, but not enough to compete with analogous publication or photo editing services.
Quark, which has historically catered to the creative pro designer community, has branched out to offer a free iPad app targeted to novice designers.
TechHive: Fixing Apple's Podcasts app
techhive.com
Apple's Podcasts app isn't a terrible app, but it's definitely in need of some work. Christopher Breen lays out what the company can do to improve the program.
Use Shapes to organize and design flow charts
Shapes lets you draw organizational and flow charts with a variety of shapes, lines, and arrows. It has a beautiful, elegant-looking interface that is supremely Mac-like, with a multi-faceted Inspector that lets you tweak line widths and styles, line and fill colors, text, and even fill a shape with an image.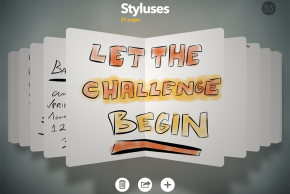 Stylus Shoot-Out: Finding the best sketching stylus
Serenity Caldwell has tested a lot of styluses. (And we mean a lot.) Now she's pitting them head-to-head in a series of challenges. In the latest installment, she looks at which stylus is the best for sketching and drafting.