Don't-Miss Photography Stories
macworld.com
If you're looking for a digital SLR camera that won't break the bank, these models provide great image quality and decent features for less than $1000. They're perfect for beginners, but also a good option for more advanced photographers who want a second body.
If you're looking for a small, lightweight, inexpensive starter camera, then the Pentax K-r is a great choice. With its huge array of features and nice image quality, it might end up being the only SLR you never need.
The NX100 is an innovative little camera, designed to lure compact shooters up to a larger sensor compact interchangeable lens (CILC) system. It has decent image quality and a large APS-C sensor, but is lacking a few key features, such as an integrated flash.
Flare offers a simple, iPhone-inspired interface that makes it easy for novice photo editors to add fun, stylized color effects and borders without requiring a trip to a more complicated program like Photoshop.
Top-rated multifunction printers
macworld.com
These top-rated multifunction printers offer a wealth of variety and functionality. Choose an inkjet or laser model to print, copy, scan, and in some cases, fax.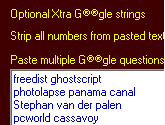 This year's hottest digital camera trends
We've already seen two waves of camera releases so far in 2011, enough to identify the latest feature trends and get an idea of what we'll be seeing more of in the year ahead. Here are some of the most popular new features in digital cameras.
The Olympus E-PL2 is a compact and versatile interchangeable-lens camera, made more interesting by a selection of fun accessories offered by Olympus.