Don't-Miss Photography Stories
Top-rated multifunction printers
macworld.com
These top-rated multifunction printers offer a wealth of variety and functionality. Choose an inkjet or laser model to print, copy, scan, and in some cases, fax.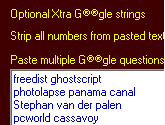 This year's hottest digital camera trends
We've already seen two waves of camera releases so far in 2011, enough to identify the latest feature trends and get an idea of what we'll be seeing more of in the year ahead. Here are some of the most popular new features in digital cameras.
The Olympus E-PL2 is a compact and versatile interchangeable-lens camera, made more interesting by a selection of fun accessories offered by Olympus.
Photo basics: How to compose a photograph
Image composition is the process of making the subject of a photo clearer, and the overall image less complicated. These tips for beginner photographers explain the essential techniques needed for framing a great photo.
If you're intimidated by high-powered image editing tools, this iPad app provides a good mix of powerful functionality and ease of use.
A photographer's workflows for the MacBook Air
Photographers who use the MacBook Air as a secondary computer need a workflow that allows them to integrate photos from the road into a master library at home. Two applications in particular, Apple Aperture and Adobe Lightroom, are well-suited for this task.
Field testing the MacBook Air for photographers
On paper, the MacBook Air appears to be the answer to many roving photographers' dreams. It's small enough to travel in a camera bag yet fast enough to run major photography software. Derrick Story takes the 13-inch MacBook Air on the road for six weeks to see how it performs.
Control your camera from your iPad with OnOne's DSLR Camera Remote HD
OnOne's DSLR Camera Remote HD works in conjunction with your WiFi-enabled computer and compatible Nikon or Canon DSLR camera to let you instantly adjust your camera's settings, fire the shutter, review images, get a live viewfinder preview, and record video from the cozy confines of your iPad.
Online backup options for photographers
While the advent of digital media has made it easier for photographers to protect and back up their images, it's still important to know your options and craft a plan. Macworld senior contributor Glenn Fleishman has put together a list of backup services you can enlist to help safeguard your precious images.
PhotoCopier for iPhone and iPad
The variety of filter choices available in this universal image-editing app -- and the results they produce -- will impress you, even if the sheer volume of choices can be a little overwhelming.
The latest and greatest camera announcements of 2011
Options abound if you're looking for a new camera in 2011. Here are the newest announcements we're excited about, including ultra-compact cameras, premium point-and-shoots, pocket megazooms, rugged cameras, DSLRs, and everything in between.
The IRISPhoto 4 Scanner is a fine choice for folks looking to digitize large stacks of 4-by-6 photos, and who favor speed and convenience over superior scan quality. However, if you're hoping to digitally preserve the beauty of high quality photos, the IRISPhoto 4's washed out and noisy scans isn't the device for you.
Sony previews new translucent mirror DSLR camera
At the CP+ imaging trade show in Yokohama Japan, Sony unveiled a prototype of the next Sony SLT (single-lens translucent) camera, the A77. The upper mid-range camera will replace the three-year-old A700 in Sony's line-up.