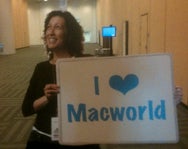 Are you attending Macworld Expo this year? Do you have a camera? Do you like to share? Fantastic!
Every January, Macworld editors scour the show floor to get hands-on time with new products, attend panels, take in presentations, and report back on what's going on. But we only make up a tiny sliver of the attendees who are actually at the conference, so this year we'd like to see Expo from your point-of-view.
If you're in San Francisco for Macworld 2011, pick up your point-and-shoot, DSLR, or iPhone and take photographs of your favorite new products or lively panel discussions. Get candid shots of roving Mac personalities and rollicking after-parties. Artsy Hipstamatic pics of the Moscone Center? Sure, we like those too.
Read more »
1