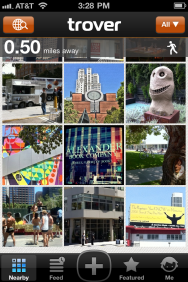 The most rewarding part of traveling is often discovering the hidden gems of a city—alleyways lined with street art, the perfect spot to watch a sunset, a camera shop stocked with vintage lenses. The new location-based iOS app Trover makes it possible for users to share or find what it calls Discoveries—photos of and information about noteworthy sites and activities in any given place.
For example, if you're in downtown San Francisco, you can see Discoveries for Rayko Photo Center's photo gallery, an iron sculpture of a man sleeping on W Hotel's roof, garlic fries from Bar 888, and a number of places to find graffiti art.
Co-founders Rich Barton and Jason Karas created Trover to provide a personalized, crowd-sourced travel guide where you can get tips from friends, people you trust, or just locals who know a place best. Like photo-sharing app Instagram, Trover users can take photos within the app, follow one another, and browse through other users' uploaded Discoveries. Trover is much more than just images; you are also required to include a brief description and the location of an image. The app pinpoints them on a built-in Google map, making it easy for users to get directions to what's captured in the photo.
Read more »
1