Reader Susan Erich seeks a bit of organization in her literature. She writes:
I've downloaded hundreds of free ebooks in a variety of formats and I need help organizing them. Some, I guess, are meant for a Kindle and others can be read on my iPad. I think there are duplicate titles and some of the author information is incorrect. Is there an easy way to sort these things out?
I was completely with you until you mentioned "easy." Separating ebook types is a cinch, locating and deleting duplicates isn't terribly difficult, but when you talk about tidying up title and author information (which relies on the book's metadata) you could be looking at a long and tedious process. But let's hope for the best and run through the steps.
Removing duplicates: Let's get rid of your duplicates. To do that choose Calibre > Preferences and then click Plugins in the resulting sheet. In the next sheet click Get New Plugins. In the list that appears locate Find Duplicates, select it, and click Install. Then quit and restart Calibre.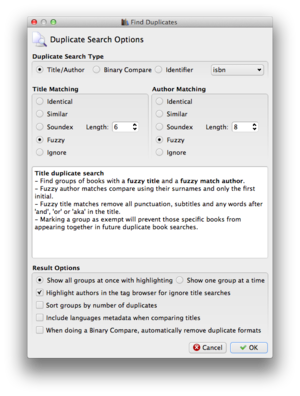 Once restarted, Calibre will display a Find Duplicates entry in the toolbar. Click on it and in the window that appears choose Fuzzy under both the Title Matching and Author Matching headings and click OK. A list of books that are duplicated will appear. Command-click any additional copies of the book (leave one unchecked so that you don't delete the original) and then click on Remove Books in the toolbar. The duplicates will disappear.
Read more »
7