Editor's note: The following review is part of Macworld's GemFest 2012 series. Every weekday from mid June through mid August, the Macworld staff will use the Mac Gems blog to briefly cover a favorite free or low-cost program. Visit the Mac Gems homepage for a list of past Mac Gems.
Instapaper has been a favorite app among iOS users since the app first launched in 2008. Now, Instapaper users have another choice when it comes to digesting their saved Instapaper articles with Readomator for Instapaper (Mac App Store link). The Instapaper client converts your saved Instapaper articles into podcasts with iTunes.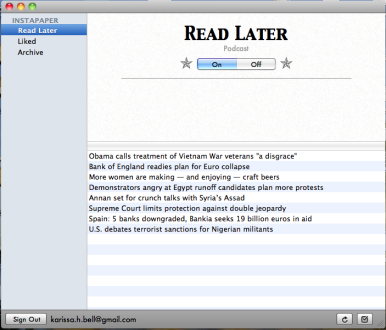 Launch Readomator, sign in with your Instapaper account, and you are greeted with a list of your saved Instapaper articles. Turn on the podcast switch, and iTunes launches and begins to convert your saved articles into podcasts, which you can then download in iTunes.
Read more »
7